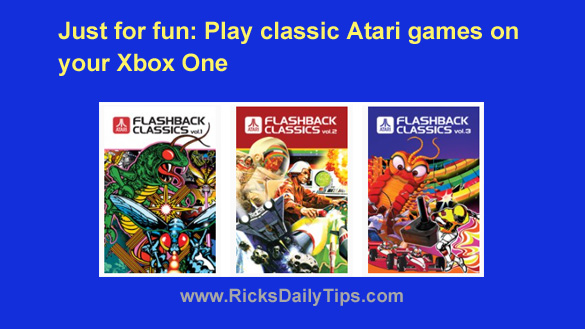 If you're old enough to remember all those awesome Atari games folks played back in the day, I have some good news…
You can play many of those classic Atari games on your Xbox One console! And unlike today's games, they won't cost you an arm and a leg either.
The Microsoft Store is currently offering three multi-game collections that include well over 100 of Atari's most popular classic games.
The first collection, Atari Flashback Classics Vol. 1, consists of 50 classic Atari games including ultra-popular titles such as "Combat", "Centipede", "Swordquest" and "Star Raiders". 
The second collection is called, wait for it… Atari Flashback Classics Vol. 2.
The 50 games in volume 2 include the blockbusters "Asteroids", "Haunted House", "Adventure", "Major Havoc" and more.
The third collection, Atari Flashback Classics Vol. 3, consists of 50 more classic games!
The three collections are sold separately for $19.99 each. In my opinion that's a fantastic bargain considering the prices that games are selling for today.
Click here for more information about the Atari Flashback Classics series. If you like what you see, you can purchase it right from that page.
Bottom line: If you enjoyed playing those classic Atari games back in the day, now you can enjoy them all over again. (And you can share them with your kids, too!)
Bonus tip: Just like your computer, your game console should always be protected with a UPS/battery backup device. Click here to check out the one I use and recommend.
---
Never miss a tip!  Click here to sign up for my free Daily Tech Tips Email Newsletter!