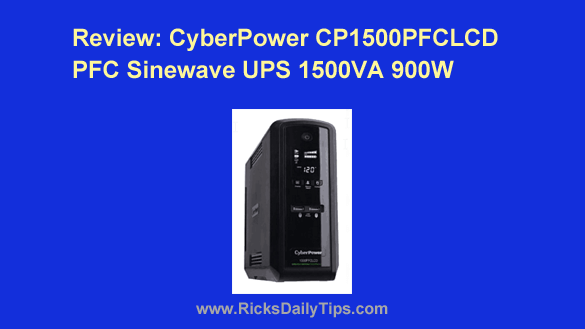 Note: The links in this post are affiliate links.
Is your home or office in an area that's prone to frequent power outages?
Does it receive fluctuating power levels from the main grid?
If so, you're surely aware of the need for a high-quality Battery Backup System or UPS.
But you might not be aware of the need for many modern PCs to have a clean source of power that consists of true sine waves instead of the clipped square waves produced by most cheap battery backup units.
If your computer has a modern Active PFC power supply, it's best to feed it sine waves just like the electricity that's delivered by the power grid.
The CyberPower CP1500PFCLCD PFC 1500VA 900W Sincewave UPS will keep your expensive computer and electronic gear running safely during brief power outages and automatically shut your system down during longer outages when you are away from the computer and unable to do it yourself.
With a generous capacity of 1500VA/900Watts, the CyberPower CP1500PFCLCD will ensure that you have plenty of time to save your work and perform a normal system shutdown.
As an added bonus, the built-in Automatic Voltage Regulation circuitry will clean up "dirty" power from the main grid and output clean and stable sinewave AC power to your sensitive devices.
And to top it all off, this unit's GreenPower UPS feature can even consume up to 75% less power than other UPS devices in the same class.
Bottom line: If you need a UPS to protect your gear and provide clean emergency electricity during power outages and fluctuations, the CyberPower CP1500PFCLCD PFC Sinewave UPS 1500VA 900W is pretty hard to beat without spending a small fortune.
This particular UPS has been selling like hotcakes on Amazon for almost 13 years and the users are still leaving great reviews for it (you can check them out for yourself). That says a lot about its excellent quality.
I've owned and used two of these jewels to protect my own computer, modem and router for some time now, and they have never let me down. I highly recommend it to you as well.
Click here to check out the CyberPower CP1500PFCLCD UPS for yourself at Amazon. You can read more about its features and specification as well as thousands of overwhelmingly positive user reviews.
Bonus tip: Did you know that you should always keep your modem and router plugged into a battery backup device? This post explains why.
---