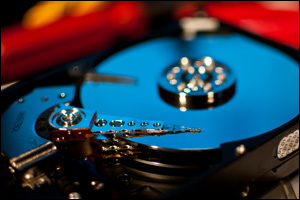 Question from Travis:  I have a Gateway desktop computer that got struck by lightning.
I also have an old HP desktop that had a bad hard drive. Both PCs ran Windows 7.
My cousin connected the hard drive from the Gateway to his computer and the drive seemed to be working fine, so I replaced the bad hard drive in the HP with the one from the Gateway.
But now after switching the drives, when I turn the computer on Windows won't boot up. All it does is display a blue screen with an error message on it.
What do I need to do to fix this?
Rick's answer:  I hate to be the bearer of bad news Travis, but I'm afraid you'll likely never be able to get the Windows installation from the Gateway to work correctly with the HP machine.
Why? Two reasons:
1 – The Windows installation that came pre-installed on the Gateway is loaded with drivers that were written to work with the hardware devices in that particular machine.
While serious, the driver issue could possibly be resolved eventually, but it would take a lot of work, research on the Internet, and just plain good luck.
2 – Assuming that you were eventually able to get all the correct drivers installed, you would never be able to activate the Windows installation on that drive because Microsoft would consider it to be "not genuine".
In a nutshell, the Windows that came pre-installed on the Gateway is forever locked to that specific machine, and it simply cannot be activated on the HP.
However, all of that being said, you still probably have a way forward using one of the methods listed below:
1 – The first thing you can try is to download a copy of the Windows 7 ISO from this page and use it to create an installation DVD or USB flash drive.
Be aware that you'll need to download the ISO that matches the Windows 7 version the machine came from the factory with, and that's almost certainly Windows 7 Home Premium.
Once you've successfully created the installation media you should be able to use it to install Windows 7 back onto the machine and then use the Windows product key that came with your HP machine to activate it.
Note: The product key should be listed on a label located either on the side of the system case or on the back panel.
2 – If for some reason you can't get Windows 7 reinstalled and activated using the above method you still might be able to purchase a set of Restore media either directly from HP (check the Support section of their website) or from someone on Ebay. Just make sure the Restore media was made for the exact model of your HP desktop PC.
If you're simply unable to get Windows 7 reinstalled using one of the methods detailed above you can always install Linux on it for free.
I hope this helps Travis. Good luck!
Bonus tip #1: This situation is a real-world example of why you need to always have a System Image Backup of your computer's hard drive on hand. This post explains how to create one if you're able to get Windows 7 running on your PC again.
Bonus tip #2: Want to make sure you never miss one of my tips? Click here to join my Rick's Tech Tips Facebook Group!
---
Would you like to ask Rick a tech question? If so, click here and send it in!
If you found this post useful, would you mind helping me out by sharing it? Just click one of the handy social media sharing buttons below. Thanks a bunch!