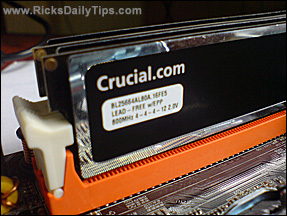 Question from Shawn:  Hi Rick. Having recently read your post about adding RAM to speed up your PC, I just bought two 4GB Crucial RAM sticks to upgrade my Dell 755 desktop computer to 8GB.
This PC is running Windows 7 Home Premium 64 bit so it should recognize the entire 8GB, but for some reason it's only recognizing 4GB. Do you think I have a bad RAM stick?
Rick's answer:  Shawn, although I could always be wrong, I doubt if you have a bad RAM stick. I'm guessing that one of your RAM modules isn't fully seated in the slot.
It's very easy for a RAM module to be ever-so-slightly misaligned, just enough to where they appear to be fully seated in the socket yet not be making a good electrical contact along the edge connectors.
I suggest removing both RAM sticks, then carefully re-insert them. Be sure to get them seated firmly and fully into their respective slots. The little clips that hold the RAM securely in the slots should snap into place, and you might even hear a solid "click" to let you know that the RAM module is seated correctly.
Give that a try and let me know how it goes. I believe this will fix your issue, but if not I'll tell you what to try next. Good luck Shawn!
Update from Shawn:  You were right on the money Rick. One of the RAM sticks was sticking out of the slot on a slight angle! I re-installed it, and now everything is working perfectly. Thanks for your help.
Bonus tip: This post explains how to speed up your computer even more by installing a super-fast solid state drive (SSD).
---
Do you have a tech question of your own for Rick? Click here and send it in!
If you think your friends would like this post, I'd love you to share it! Thanks a bunch!