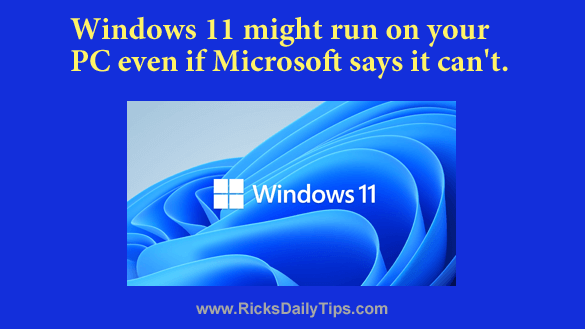 Click here to sign up for my free Rick's Tech Tips Newsletter!
---
As I reported in this post, Microsoft has announced that Windows 11 will officially be released to the masses on October 5.
I've received a ton of feedback about this with about half the respondents saying they'll be sticking with Windows 10 and the other half chomping at the bit to install Windows 11 ASAP.
If you happen to fall into the "I want to install it ASAP" camp you can compare your PC's hardware configuration against the system requirements listed on this page to see if Microsoft believes Windows 11 will run on your machine. 
Note: Microsoft had a "PC Health Check" tool on that same page that supposedly would tell you immediately whether your PC is capable of running Windows 11, but it was so horribly off the mark that they ended up removing it.
I'm guessing the tool's removal is only temporary because as of the time of this writing it say's "Coming soon".
So what if you ran the PC Heath Check tool while it was still up and it said your machine was incompatible with Windows 11?
Or what if your PC's specs don't quite meet the standards listed in the official Windows 11 system requirements?
Well I have some news for you…
Your machine might still be capable of running Windows 11, regardless of Microsoft's opinion on the matter.
I have successfully installed and tested Windows 11 on several older PCs that don't meet one or more of the official system requirements and I can tell you that all but two of those PCs are working just fine with Windows 11.
Now that being said, I must mention one caveat…
My test machines aren't running the official release version of Windows 11 because it doesn't exist yet (Microsoft is still squashing lots of bugs).
The version I installed is the latest test version available to Windows Insiders beta testers.
When the official release version starts rolling out to the masses on October 5 there's always a chance that it will be so different from the test version I'm currently running that it indeed won't run on machines that don't meet Microsoft's stated system requirements.
But truth be told, I really can't see that happening. At this late stage in the game I just can't see any changes coming down the pike that would be big enough to prevent a PC that's capable of running the latest test version from being able to run the official release version as well.
But as they say, we'll just have to wait and see.
If you're the adventurous type you can try installing the latest test version yourself to see first-hand if it'll run on your PC.
Just be aware that if anything goes wrong (and there's a good chance it might since this is "alpha" software), you could end up losing everything that's already on your PC's hard drive, including its current Windows 10 installation.
Therefore, I strongly recommend that you create a System Image Backup before you begin  installing Windows 11. Just sayin'.
If you decide you want to try installing the test version of Windows 11, you can do so by following the steps listed in this fantastic guide from our friends at c|net.
Bottom line: Just because Microsoft claims your PC isn't capable of running Windows 11, that doesn't mean it actually won't.
If you really want to move up to Windows 11 there's no harm in giving it a try – just be sure to create a fresh backup of your PC's hard drive first!
---
Click here to ask me a tech question.