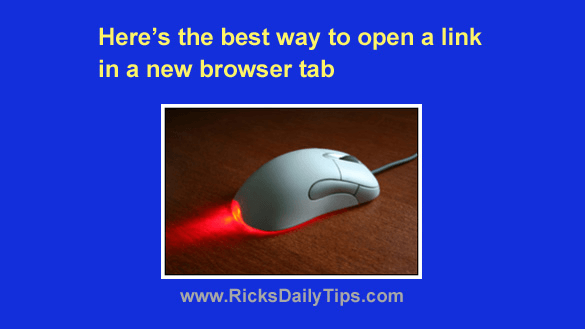 If you're like me you probably want many of the links you click to open in a new browser tab.
Most people do this in one of two ways:
1 – Hold down the Ctrl key while clicking the link.
2 – Right-click on the link, then click on Open link in new tab.
Both of those methods work great in the browsers that support them, but there's an even better way to get a link to open in a new tab:
Do you know that little wheel on your mouse that makes the page scroll up and down? Try "Clicking" it by pressing straight down on it.
That's right, you can "click" the wheel on your mouse and the link will automatically open in a new tab – and you don't even have to touch the keyboard.
This is called "middle clicking" and it works extremely well!
And it's fast too because your finger will probably already be on the wheel when you get to the link! Just press down on it and a new tab containing your desired content will pop right up.
Pretty neat, huh? I learned this trick a long time ago and it makes my day a lot more productive than it used to be.
Such a simple action, but such a handy tool!
By the way, your mouse is capable of making Windows perform several other kinds of digital gymnastics. Click here and here for several more handy mouse tricks.
Bonus tip: Want to learn all the ins-and-outs of Windows 10? Well, Windows 10 for Dummies is a fantastic book that's chock full of informative, yet easy-to-understand tips and tricks for using Windows 10.
---