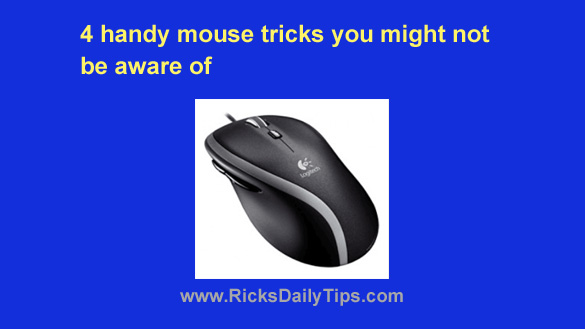 Virtually every computer user knows that clicking on a link or icon will open whatever item that object is pointing to.
But did you know there's a lot more to using your mouse than just visiting links and opening programs.
Truth be told, the mouse is actually one of the most versatile parts of your computer system!
Want proof? Well, check out these four extremely useful mouse tricks:
1 – Double-click on a word to select it. This is a lot faster than clicking on the first letter of a word and then dragging the mouse pointer to the end of that word.
2 – Triple-click on a word to instantly select the entire paragraph that contains it. This is a lot faster than clicking on the first letter in the paragraph, holding the Shift key, then clicking on the last letter in the paragraph.
3 – Click the mouse wheel (press down on it with your finger) to open a link in a new window or tab. This is faster and easier holding the Ctrl key while you click the link.
4 – Hold the Ctrl key while rolling the mouse wheel to zoom in or out and change the font size. Hold the Ctrl key and press the 0 key (that's zero, not the letter O) to return the zoom level and font size to their original states.
There you go! Now you know how to use your lowly mouse to do some rather useful tricks. I hope you found them useful!
Bonus tip #1: Click here for 8 tips for a faster Internet experience.
Bonus tip #2: Want to make sure you never miss one of my tips? It's easy! Just…
Click here to sign up for my free Rick's Daily Tips Email Newsletter!
---
Would you like to ask Rick a tech question? If so, click here and send it in!
If you found this post useful, would you mind helping me out by sharing it? Just click one of the handy social media sharing buttons below. Thanks a bunch!