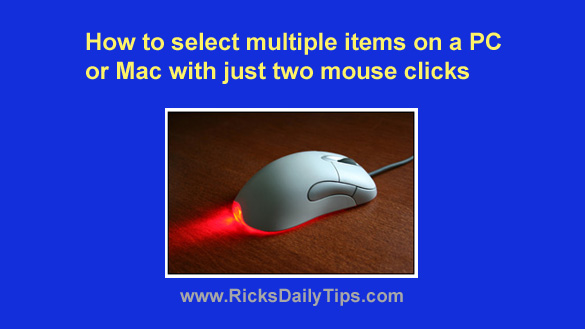 You probably already know that holding down the Ctrl key on a Windows PC or the Command key on a Mac will allow you to select multiple items one at a time.
The thing is, if you have a lot of items to select it can get a bit tedious and boring by the time the task is finished.
But did you know there's a super-easy way to select multiple consecutive items with just two mouse clicks?
Here's how to do it on both Windows machines and Macs:
1 – Click on the first item you wish to select in order to highlight it.
2 – Press and hold the Shift key.
3 – Click on another item in the list and you'll see that that both items you clicked on PLUS all the items between the two are now selected.
That's all there is to it. Pretty neat, huh? It's amazing what these little gadgets can do!
Bonus tip: Click here for several other handy mouse tricks!
---