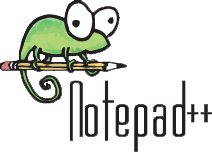 The Windows Notepad utility is one of the handiest little programs there is, but it comes with a number of frustrating limitations.
But even with those limitations I found myself using it several times a day simply because it's so convenient.
But no more. I long ago switched to a wonderful free Notepad replacement app called Notepad++.
Notepad++ does everything the standard Windows Notepad does, only better. I won't list all the great features here, but there are three features that really made it worth the switch for me: 
1 – Unlimited Undo – My biggest frustration with Notepad is how you can only "Undo" the last action. Notepad++ has an unlimited Undo capacity which allows you to undo as many actions as you wish.
2 – Tabbed Documents – Notepad++ allows you to open and edit multiple documents at once and switch between them with the click of a mouse. You can also copy/cut and paste from one document to another.
3 – Spell Checker – Notepad++ includes a great spell check feature, a glaring omission in the standard Notepad utility.
You can download Notepad++ for free right here.
Once you have downloaded and installed Notepad++, there are a couple of features that I recommend disabling because I find them of little use:
1 – Turn off Line Numbering by clicking Settings>Preferences>Editing and then unchecking the box beside Display line number.
2 – Disable the feature that automatically makes links in the document "clickable" by clicking Settings>Preferences>MISC., then unchecking the box beside Enable under the Clickable Link Settings heading.
Of course you can leave one or more of these features enabled if you find them useful.
Bottom line: I've been using Notepad++ for many years now, and I love it! I'm guessing you will too should you decide to give it a try.
Bonus tip #1: This post explains the easiest way to copy information from a document and paste it into another document as plain text (without all the formatting).
Bonus tip #2: Want to make sure you never miss one of my tips? Click here to join my Rick's Tech Tips Facebook Group!
If Facebook isn't your cup of tea, I invite you to sign up for my Rick's Daily Tips Daily Update Newsletter.
---
Want to ask Rick a tech question? Click here and send it in!
If you found this post useful, would you mind helping me out by sharing it? Just click one of the handy social media sharing buttons below.