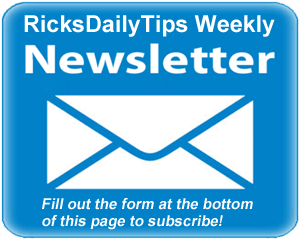 Hello again everyone. I hope you all had a great week!
I spend a good portion of each work day researching information for blog posts and answers to reader questions on the Internet, so I'm very picky about my web browsers and the extensions I use with them.
I actually use several different browsers to accomplish different tasks throughout the day, but my "work-horse" browser is Google Chrome. It just seems that Chrome gives me the best user experience, and it's fast!
But as much as I love Chrome, there are a few browser extensions that make it even better. I'd like to take this opportunity to tell you about them. 
Note: To add any of the extensions mentioned below to your Chrome browser, simply visit the linked page and then click the button to install it. And by the way, they are all free!
And here we go…
1 – My favorite browser extension of all, hands-down, is the awesome Adblock.
I'm usually in a hurry when I'm looking for something online, and I hate it when about a dozen ads start playing at once and cause my browser to slow down or hang up.
Adblock blocks those annoying ads, even the ones that show up when I'm watching an online video.
2 – My second favorite extension is Webpage Screenshot.
In a nutshell, this amazing extension allows me to capture a screenshot of an entire web page, not just the portion of the page that's currently visible in the browser window.
After the screenshot has been captured, it can be used just like any other image file. You can even use their handy tool to edit the screenshot image and mark it up before sharing it with others.
3 – Another of my all-time favorite extensions is Facebook Unseen. I interact with Facebook often throughout the day by posting links to my blog posts, answering questions from my blog's visitors and responding to feedback.
With Facebook Unseen running in the background, I can take a quick look at new messages as they come in and decide on the spot whether I need to respond to them right away.
If I need to wait and respond to a message at a more convenient time, I can click away without the sender being notified that I have read their message. That way they won't get the impression that I'm ignoring them.
4 – Chrome Remote Desktop is a truly awesome extension from the folks at Google.
I use this one fairly often because it allows me to temporarily take control of another user's computer over the Internet (with their permission of course) in order to remotely assist them in resolving software issues they're having with their machine.
If you do any kind of "technical support" for family, friends, co-workers or customers, Chrome Remote Desktop can be a real lifesaver.
5 – And finally, let me tell you about Lazarus Form Recovery, a super-handy extension that has prevented me from pulling my hair out many, many times in the past.
Have you ever spent several minutes filling out a long web form only to have the browser crash on you before you could submit the information? If so, you probably either had to start all over or simply abandon the form out of frustration.
Well, Lazarus Form Recovery can prevent that frustrating experience from ever happening again.
In a nutshell, it saves your form data as you enter it. Should your browser crash before you're finished, you can simply start over and have Lazarus fill in the form fields for you from its saved cache.
Well, that's it for this week. If you have a tech question that you would like for me to answer, click here and send it in!
Special note: As a subscriber to the RicksDailyTips Tech Newsletter you're automatically entered to win one of my monthly tech gear giveaways. Monthly winners are announced in the first newsletter of the following month.
March's winner will receive fantastic Intocircuit Power Castle PC26000 26000mAh External Battery Pack.
Not a subscriber to my newsletter? Fill out the short subscription form below to receive my weekly newsletter by email and be automatically entered for my monthly Tech Gear Giveaways!
I hope you found this edition of the newsletter useful and interesting. If so, I hope you'll consider passing it on to any of your friends and associates who might enjoy reading it as well.
Thanks a bunch,
Rick Rouse
Website: www.RicksDailyTips.com
Follow me on Facebook: www.Facebook.com/RicksDailyTips
Follow me on Twitter: www.Twitter.com/RicksDailyTips