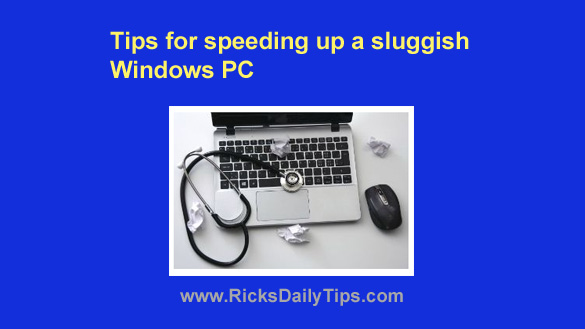 Note: The links in this post are affiliate links.
Modern personal computers are amazing machines.
They allow us to do things in minutes that once took hours or days as well as many other things that couldn't be done at all in times past.
But even with all their awesome power and capabilities, computers are no fun to use when they're running slowly and freezing up at random times.
Today I'm going to discuss a few things you can do to help speed up a sluggish PC and hopefully avoid having to deal with erratic system performance.
Let's start off with some free (or almost free) things you should try first:
1 – When a computer is running slower than it should, the first thing I always do is perform a thorough malware scan to find and remove any viruses, adware and other malware that might be over-working the CPU and maxing out the RAM.
Malware is everywhere these days, and all it takes is for one piece of malicious code to slip past your security software and open the door for other malware to sneak in and infect your system.
Follow the steps in this post to completely rid your PC of any malware that might be on your computer's hard drive or SSD.
2 – Next, remove any programs and apps that you don't use (and don't plan to use in the future) to free up disk space. Windows works best when the operating system has plenty of breathing room in both the system RAM and on the hard drive.
You can remove most unused apps in Windows 10 and Windows 11 simply by right-clicking on their names or icons and clicking Uninstall.
However, I prefer to uninstall programs from Windows machines using a fantastic free utility called Geek Uninstaller.
Unlike Windows' native uninstaller utility, Geek Uninstaller will remove every last trace of a program without leaving any remnants behind to clutter up your system.
3 – The next thing you'll want to do is trim back your list of auto-loading programs to just the programs you really need to have starting up automatically with Windows (your antivirus program for example).
Windows comes with its own tools for disabling auto-starting items, but I prefer to use Autoruns, a fantastic free utility that is much more thorough in listing the programs and services that you are allowed to disable.
And using Autoruns is simple – just uncheck the box beside an item to prevent it from starting up automatically.
4 – Make sure that your PC isn't over-heating. When many modern CPUs detect that they are running too hot they'll reduce the system clock speed in an attempt to cool themselves down. The problem is, reducing the clock speed results in slower system performance.
Over-heating in a computer is usually caused by either a malfunctioning cooling fan or dust build-up inside the case (which restricts air flow).
It will be obvious if a fan isn't working at all because you won't see or hear it turning and you won't feel any hot air being expelled from the back of the case.
That being said, it's possible for a fan to be spinning, but not fast enough to push enough air through the case to keep the internal components from getting too hot.
If you suspect that your PC has a malfunctioning fan, I recommend that you have it checked out by a computer tech ASAP.
Running a system that's constantly over-heating will cause one or more of the internal components to fail prematurely. And believe me, it's a lot cheaper to have a bad fan replaced than to have to replace an entire computer.
Unlike a malfunctioning fan, dust build-up is something that you can easily handle yourself. All you have to do is blow it out with a can of compressed air. Just follow the directions in this post.
If none of the things you tried above seemed to help much, here are a couple of hardware upgrades you can make that surely will:
1 – If your computer only has 4GB of RAM, try doubling that amount to 8GB (or even better, bump it up to 16GB) to give Windows plenty of extra breathing room.
Compared to times past, RAM is actually fairly inexpensive these days. That's why it makes sense to ensure that your computer has at least 8GB installed if its motherboard can support that much.
If you're unsure whether your machine can support more RAM or which RAM sticks you need to buy, a quick visit to Crucial.com will give you those answers.
Just run their handy System Scanner tool and you'll know in seconds how much RAM your computer supports and which specific RAM sticks you'll need to buy for a RAM upgrade.
Once you know exactly what type of RAM sticks you need to buy you can simply purchase them right then and there from Crucial.
Alternatively, you can purchase them from Amazon and possibly save a little cash!
2 – If you really want to give your PC a permanent rush of adrenaline, replace its hard drive with a super-fast Solid State Drive (SSD)!
Hands down, this is about the best hardware upgrade you can make to a computer these days.
And as luck would have it, the prices of SSDs have dropped like a rock over the past year or so. In fact, you can now buy SSDs at Amazon starting at less than $50!
Bottom line: You don't have to live with a sluggish, poorly performing PC.
Just follow the steps listed above to keep your desktop or laptop computer running smoothly and at the correct temperature.
---