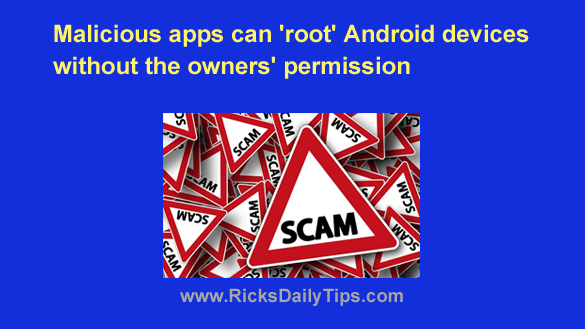 Click here to sign up for my free Rick's Tech Tips Newsletter!
---
One of the great things about modern smartphones and tablets is their ability to run apps that perform a wide variety of useful tasks.
If you can think of something for your device to do on your behalf, there is probably an app for it.
In reality, smartphones and tablets are in fact tiny computers, and the apps they run are actually computer programs, and there's a downside to that…
Any device that can run a computer program is subject to being attacked by hackers.
Security firm Lookout (the maker of Lookout Mobile Security) is warning about a strain of adware that will actually attempt to "root" your Android device in order to prevent you from removing it.
As you probably already know, rooting a device removes most of Android's built-in protection against hacking attacks. That's one of the reasons why I recommend against the practice.
And of course the danger posed by rooting is even greater if you don't know that your device has been rooted in the first place.
Many malicious apps are knock-offs of legitimate apps that are popular in the Google Play Store.
As a result, unsuspecting users download the fake app from third-party download sites while thinking they are downloading the real app.
Google runs a pretty tight ship when it comes to screening the apps they'll allow in their Play Store, and that results in most malicious apps being distributed via third-party download sites.
Bottom line: Be extremely careful about downloading ANY Android app from any place other than the Google Play Store. I never do it, and I strongly recommend that you refuse to do it as well.
What's more, you need to be careful even when downloading an app from the official Google Play Store. Google is actually pretty good at keeping bad apps out of the Play Store, some do sneak in on occasion.
And finally, always thoroughly investigate the legitimacy of an app before you install it by typing the name of the app along with the words hacked and malware into your favorite search engine.
If the app is unsafe there will almost certainly be several articles and blog posts warning potential users not to install it.
Bonus tip: The fantastic (and free) AVG for Android antivirus app can help protect your Android phone or tablet from viruses and other forms of malware. Click here to read more about it.
---
Cick here to ask me a tech question.