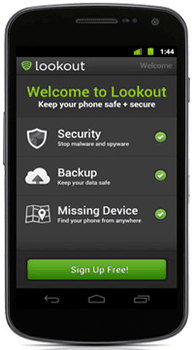 Hackers have been relentlessly attacking PCs that run Microsoft Windows for years while largely ignoring computers running other operating systems.
Why? Because they enjoy inflicting misery and financial loss on as many people as possible while expending the least effort.
It's simply the age-old principle known as economy of scale at work. Since there are more Windows PCs out there than anything else, they aim their malicious attacks at them in order to get the most "bang for their buck".
While PC's are still their primary targets, now that smart phones and tablets are in virtually every pocket in America the hackers have turned their attention to those devices as well. 
With that in mind, let me tell you about a free app called Lookout Mobile Security that offers security protection for iPhone, iPad, Amazon Kindle Fire and all Android devices.
There are several security solutions for mobile devices on the market, but Lookout is probably the most popular and the reviews that I have read were by and large quite positive.
A paid version of Lookout offers other useful features in addition to those offered in the free version, but most users will probably find that the free app is all they really need.
You can learn more about Lookout Mobile Security at www.lookout.com. Depending on which mobile device(s) you have, the app can be downloaded directly from either iTunes, the Google Play Store or the Amazon App Store. You'll find links to the respective download pages at the bottom of the page.
Bonus tip #1: A perfect companion to Lookout Mobile Security is AVG for Android. Click here to check it out.
Bonus tip #2: Want to make sure you never miss one of my tips? Click here to join my Rick's Tech Tips Facebook Group.
Not into Facebook? Then click here to join my LinkedIn Tech Tips Group instead!
---
Want to ask Rick a tech question? Click here and send it in!
If you found this post useful, would you mind helping me out by sharing it? Just click one of the handy social media sharing buttons below.