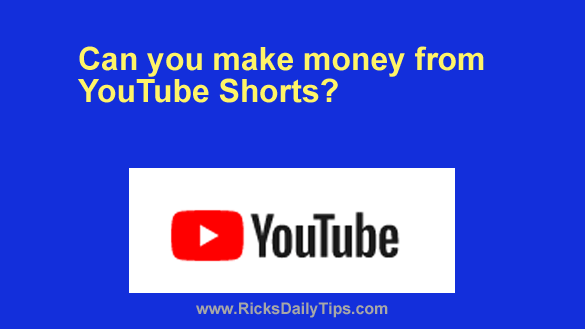 YouTube's "Shorts" feature has brought a massive win to both the platform and its creators, as it has helped create a valuable content resource for many of the company's channel's creators.
However, it has also raised some questions and problems about how to make a proper orientation of videos and how to profit from these. 
With the help of the rotate video online, you do not only need to have any special skills to turn videos right side up. It allows you to rotate videos on various platforms, such as Android, iPhone, Mac, and Windows.
Although YouTube Shorts is a part of the YouTube Partner Program (YPP), it is not considered a part of the monetization program.
To be a part of the program, you need to reach certain milestones, such as having 1,000 subscribers and 4,000 hours of watch time. However, there is no way to collect ad revenue from short videos.
However, YouTube is changing its rules about that. Starting February 2023, they will start sharing revenue from ads people view in the "Shorts" feed and content creators will be able to earn money from those ads.
According to the company, they will be distributing 45 percent of the revenue to creators based on the number of views.
Making money on YouTube Shorts
To be eligible, partners must first accept the monetization module, which allows them to earn from YouTube Premium and ads in the Shorts feed. If they do so after February 2023, the ad revenue sharing will begin to apply to the eligible views of their channel.
However, views accrued before the module's implementation are not eligible. Those who have previously submitted views will not receive ad revenue sharing.
One of the ways to make money from shorts is through the $100 million Fund, which YouTube revealed in 2021. The platform said it would give creators monthly bonuses ranging from $100 up to $10,000. But the exact amount will depend on how well they performed in the previous month.
Make money on YouTube Shorts through brand sponsorships
Getting the YouTube Shorts bonus takes work. Thousands of creators battle for this monthly prize and many of those with millions of views have multiple shorts.
You do not have to join the race to earn money from YouTube shorts. There are many ways to make money from these videos, and one of these is through sponsorships.
As a sponsor, a brand will pay you to advertise its products or services in one of your videos. For example, a new line of leggings or a gadget that can remove pet hair from carpets might be featured.
What's the current issue about YouTube Shorts?
The YouTube shorts bonus will stop working in 2023. The following year, creators are expected to start earning money from the ads within the feed. As previously mentioned, the last batch of bonuses will be issued this February.
But, to receive a Shorts bonus, you must post an original YouTube video every 180 days, excluding TikTok videos. You should be at least 13 years old and be living in a country that meets YouTube's monetization policies.
How much can a creator earn from the YouTube Short Funds?
The monetization of Shorts comes from YouTube's Creator Fund, which is worth around $100 million. Each month, a portion of this fund is allocated to reward creators. This will continue when the platform starts collecting feedback from its users to develop a long-term program for Shorts.
According to YouTube's official line, creators will be paid around $100 up to $10,000 per month. The amount will be based on views and engagement. This is great for established influencers who already have other sources of income.
The goal of this system is to create a level playing field for all creators, and your income will depend on the performance of other people on the platform as well as outside of your niche.
When did Short Funds launch, and where?
After being launched in the US and other countries, YouTube Shorts became a global hit last month. The app is modeled after TikTok, which is also popular on Instagram and Snapchat.
Fun Fact: According to Google, the feature has gained a substantial following due to its popularity. In March, Sundar Pichai, the CEO of Google, said that the app had generated over 6.5 billion daily views.
YouTube has only allowed creators in a select group of countries to receive payments from its Shorts fund. These include the following countries:
The company noted that it would soon expand its eligibility to other regions and countries.
Every month, a creator's YouTube Shorts will count toward their performance, and the bonus payments will be adjusted based on the channel's total performance.
The level of performance a channel needs to reach to qualify for a bonus will vary, as the number of creators and the audience location of their viewers can also vary.
How did Short Funds affect content creators?
The new YouTube Shorts Fund gives creators ten different ways to earn money on the platform.
Some of these include the ability to earn money through the YouTube Partner Program, which provides ad-sharing revenue.
Other features include the following:
Final Thoughts
Are the payouts worthwhile if you are a YouTube Partner or planning on creating content for different platforms? While short-form content has been around for a while, it still needs to be widely used.
YouTube wants to compete against Instagram, Snapchat, and TikTok. The platform has a vast potential for creators of YouTube Shorts. If they are happy to continue playing, they can expect changes in their monetization policies.
If you want to revive a YouTube channel that has been severely affected by the demonetization, or if you are simply a fan of the platform, Shorts can be a great way to boost engagement and earn money.
---