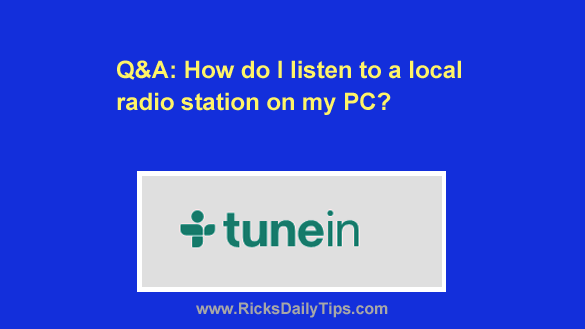 Question from Lois:  I use a computer all day at work and it's gets pretty boring. I'd like to listen to music while I work.
My boss said I can listen to a radio but I don't really have room for one on my small desk.
Is there any way to listen to my favorite radio station on my computer?
It's a Dell with Windows 10.
Thanks in advance for your help!
Rick's answer:  Lois, there are several ways to listen to local radio stations on a a PC, but the options available to you will depend on the station you want to listen to.
Most stations can be accessed online in one way or another these days, but my preferred method is to use the station's own live streaming feed if they provide one.
To check to see if your station has a live stream simply visit their website and look for a button labeled "Listen Live", "Live Stream" or something similar.
If your station isn't available via live streaming directly from their website you can try using an awesome app called TuneIn.
TuneIn comes pre-installed on some Windows machines, but if it isn't already on your PC you can follow the steps below to install it for free:
1 – Click the Start button.
2 – Click the Microsoft Store tile. (Note: If that tile isn't displayed on the Start Menu simply press the Windows+S key combination and search for the word store.)
3 – Once you have the Windows Store app on the screen, type the word tunein into the search box.
4 – Click TuneIn Radio App.
5 – Click the Install button. Windows will now download and install the app on your PC.
6 – After the TuneIn app has been installed, click the Launch button to open it.
7 – Click the Search link over in the left-hand column and type your desired station's call letters into the search box. For example, if you wanted to listen to WSM radio in Nashville you would search for WSM.
8 – If your station is available via the TuneIn app you should see it listed at (or near) the top of the search results. Click on the station's call letters to listen to its live stream.
That's all there is to it, Lois. Hopefully you're listening to your favorite radio station at this very moment!
Update from Lois:  Thanks Rick! I installed TuneIn and it works perfectly for me!
Bonus tip: This post explains how to use an old smart phone as an emergency radio scanner.
---