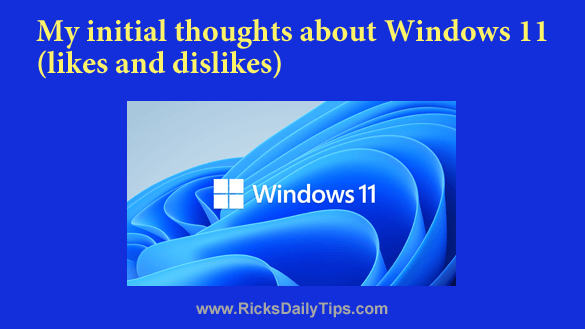 Click here to sign up for my free Rick's Tech Tips Newsletter!
---
As you probably know, I've been testing the "Preview" version of Windows 11 for a while now, and I think this is a great time to express my initial thoughts about it.
I'll just say at the outset that after using Windows 11 for a while, one word comes to mind: Pointless.
At it's core, Windows 11 appears to be just Windows 10 with a fresh coat of paint splashed all over it.
I know some folks will disagree, and that's fine. But that's my conclusion.
Truth be told, I have yet to find even one important benefit that Windows 11 will provide for the average user.
In my humble opinion there's no real reason why I should recommend that anyone update their machine from Windows 10 to Windows 11 any time soon.
To be blunt, there just isn't enough "there" there to justify the update.
Now that I've discussed the lack of compelling benefits that I found in Windows 11, I'll list a few of the most irritating annoyances…
1 – There's no way to permanently display all the icons that are available in the "Tray" area in the bottom-right corner of the screen.
In Windows 10 there was an "Always show all icons in the notification area" option for keeping all those icons in view at all times. That option is completely gone in Windows 11.
We're now stuck with having to always have to click the little "carat" icon in order to see the icons that are hidden from view.
2 – The regular Taskbar icons are now centered on the screen by default.
This isn't really a biggie since they still give you the option of moving them to their normal position on the left, but it makes no sense to me that they've made the new "centered" option the default.
If you want to move the Taskbar icons to the left side of the Taskbar, just click the Start button, type taskbar alignment into the Search box and then select Controls alignment of the taskbar from the list of search results.
3 – Do you like seeing text labels below your Taskbar icons? Well, with Windows 11 you're out of luck.
All you'll see at the bottom of your screen are the icons themselves, and there's no setting that allows you to change that.
And you can no longer change the size of the icons either.
4 – It's no longer possible to move the Taskbar to the top or either side of the screen. It's now stuck at the bottom of the screen, apparently forevermore.
And as I explain in this post, the Taskbar really needs to be on one of the sides of the screen in order to take full advantage of today's wide-screen monitors.
5 – The super-handy "Quick Launch Toolbar" is gone.
For me, that was one the most useful features in all of Windows. Now it's just a memory.
6 – There is no option to install and set up Windows 11 using a local account.
You now MUST sign in to a Microsoft account in order to get Windows 11 installed and complete the Setup process.
You can still opt to create and switch to a local account once you've completed the Setup process, which makes absolutely no sense after they've already forced you to sign into a Microsoft account just to complete the installation.
If you install Windows 11 and then decide you want to use a local account, just click the Start button, type accounts into the Search box, select Your account info from the list of search results and then click Sign in with a local account instead.
7 – In my humble opinion, the new Start Menu is awful.
In Windows 10 you can quickly launch a program or app simply by clicking the Start button and then selecting the program/app from the list on the left side of the Start Menu.
In Windows 11 the apps list is hidden. You now have to move your mouse over to the top-right corner of the menu window and click All apps.
And after you click All apps the list of pinned apps disappears. Go figure.
These are just some of the most annoying changes Microsoft has made to the Windows 11 experience.
I know there are likely plenty more that will become apparent as I begin to dig deeper into the menus and options.
Of course the Preview version of Windows 11 that I've been testing isn't the final version that will be released on October 5, but you can bet it's pretty close.
Who knows, over time Microsoft might reverse a few of these changes, especially if enough people lodge complaints about them.
But as of today, this is Windows 11 as we know it – and these are my initial thoughts about it.
What about you? Have you installed the Windows 11 Preview and taken it for a spin?
What are your thoughts about these changes? I'd love to hear your opinion, even if it differs from mine.
---
Click here to ask me a tech question.