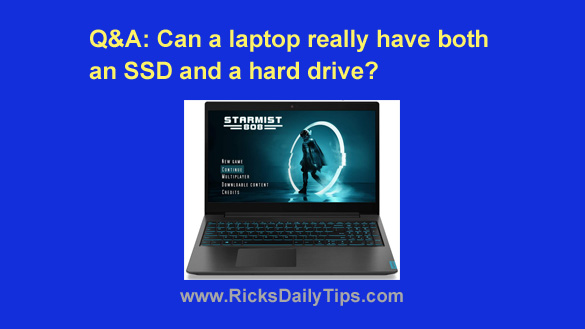 Note: The links in this post are affiliate links.
Question from Bryan P.:  Hi Rick. I found your blog while Googling the answer to a question I have about laptops.
I couldn't find a clear, straight-forward answer so I hope you can answer it for me.
I've been looking online for a new gaming laptop because the one I had (and loved) got stolen a few days ago.
It's been several years since I've shopped for a new computer and I'm seeing something that's confusing me.
I really like this laptop that I found on Amazon. The sales page says it has both a 256 GB SSD and a 1TB hard drive.
Could that really be true? I thought laptops only came with one drive since they're so cramped for space.
Rick's answer:  I'm sorry your laptop was stolen, Bryan, especially since you liked it so much. That's a real shame.
To answer your question, some laptops indeed come with both solid state (SSD) storage and a hard drive installed, including the Lenovo that caught your attention.
Other laptops come with one drive installed but they also have a empty drive bay for adding a second hard drive or SSD.
To save space and weight, the flash memory chips that would normally be mounted inside a stand-alone SSD are typically soldered directly onto the mainboard in some of the smallest and thinnest laptops and ultrabooks, and there's no internal hard drive at all.
However, some laptops actually do come with both a discrete solid state drive and spinning hard drive installed.
I love laptops with dual drives because the operating system can boot itself up and load programs/apps from super-fast flash memory while the hard drive can store tons of photos and other types of user-created files.
In other words, you get the best of both worlds (the startup and operational speeds of an SSD plus the massive storage space of a traditional hard drive).
I hope this helps, Bryan. I wish you the best of luck with your new gaming laptop!
Bonus tip #1: This post details my best tip for choosing a great laptop.
Bonus tip #2: Want to make sure you never miss one of my tips? It's easy! Just…
Click here to sign up for my free Rick's Daily Tips Email Newsletter!
---
Would you like to ask Rick a tech question? If so, click here and send it in!
If you found this post useful, would you mind helping me out by sharing it? Just click one of the handy social media sharing buttons below. Thanks a bunch!