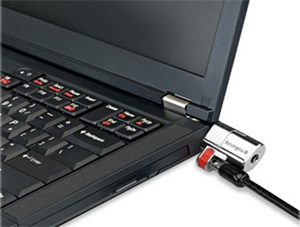 These days, laptops are as common in our schools as backpacks, notebooks and pencils. In fact, most colleges (and many high schools) now require that every student own one.
Unfortunately, laptops also tend to disappear when you aren't looking. In fact, many campus police departments receive more reports about stolen laptops than any other item.
Simply following just a few simple common-sense rules can help keep your laptop safe and sound regardless of where you might happen to be on campus.
Here are three tips for keeping your laptop from being stolen: 
1 – Always keep your laptop with you whenever you're in a public place. ALWAYS.
For example, if you're in the library and you need to make a quick trip to the restroom or retrieve a book from the "stacks", take your laptop with you. And it makes no difference how quickly you expect to return – just do it.
If you leave your laptop unattended, it could easily get stolen while you're gone. It only takes a few seconds for a thief to grab your laptop, stick it under his/her jacket and walk out of the room.
2 – If you simply MUST break rule number 1, secure your laptop to a solid, stationary object with a laptop cable lock (#ad)
And remember, a chair, stool or table leg is not a solid, stationary object. Alternatively, you can leave it in the hands of a trusted friend who'll take care of it as she would her own.
3 – Never leave your laptop in your car, even if it is covered by a blanket, jacket or other such object. Covering up an expensive item in a car does very little beyond giving the owner a false sense of security.
Most thieves know to look under such items, and they'll do it every time. In fact, I recommend removing everything that could be used to hide a valuable object from the car altogether since they tend to attract the attention of passing thieves. And by the way, don't be fooled into thinking that locking your car is an effective deterrent, because it isn't.
And now, here are three steps you can take that can help you recover your laptop and/or data if it ever does get stolen:
1 – Install the exceptional Lojak (#ad) tracking software. Having Lojak installed gives you the best chance possible of having your stolen laptop recovered and returned to you. It's rock-solid and 100% secure, and the thief won't be able to disable or remove it from the laptop even if he wipes the hard drive or removes it completely!
2 – Register your laptop with the Campus Security office. They'll record the brand, model and serial number along with your name, student ID number and contact info. That way if your laptop is ever lost or stolen and then recovered, they'll quickly be able to determine that you are the rightful owner.
3 – Make regular backups of your data, both locally with a System Image Backup and in the cloud with a service like Carbonite.
After all, there is no guarantee that you'll ever get your laptop back if it gets stolen, and if you do happen to get it back all of your data might be erased.
It's bad enough losing an expensive laptop, let alone losing all of your notes, research papers and other important school-related files. And just think about all those photos and music!
Bottom line: Keeping your laptop safe and secure on campus takes planning, diligence and common sense. Following the suggestions listed above can help keep your computer and data safe and sound.
Bonus tip #1: This post explains why you need a battery backup for your computer (even if it's a laptop).
Bonus tip #2: Want to make sure you never miss one of my tips? Click here to join my Rick's Tech Tips Facebook Group!
---
Do you have a tech question of your own for Rick? Click here and send it in!
If you found this post useful, would you mind helping me out by sharing it? Just click one of the handy social media sharing buttons below.