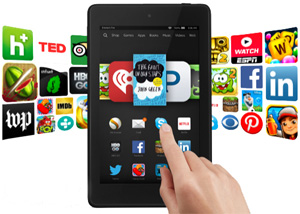 A while back I tested and reviewed the Kindle Fire HDX from Amazon, and to put it mildly I was very impressed.
That being said, I must say that when Amazon announced the release of the Kindle Fire HD 6 (#ad) at such a fantastic price, I was more than a little skeptical.
But as it turns out, I shouldn't have been.
While putting the Kindle Fire HD 6 through its paces, it quickly became evident that this was far from just another bottom-dollar junk tablet. 
For starters, it has a powerful 1.5GHz quad-core processor and a fantastic 6 inch 1280x800px HD display that's very bright, vibrant and responsive.
The base model comes with a modest 8GB of storage, but you can double that for just $20 extra. I tested the 8GB model, and I believe that will easily suffice for most casual users.
If looks are important to you, the attractive and durable case comes in a choice of 5 colors. I've always preferred a black case for my tablets, but to each his or her own, as they say.
The Kindle Fire HD 6 fits easily into a pocket, yet the 6 inch screen is a joy to look at with it's vibrant colors and sharp text. In my opinion, this is the perfect tablet for the road.
While certainly not DSLR quality, the photos taken with the front and rear cameras are quite acceptable. And after you have taken a bunch of them, you can quickly and easily upload them to the free unlimited cloud storage that's included in this awesome package deal.
One feature that I really like is the ability to view your video content on a near-by TV while simultaneously using your Fire HD 6 tablet for other things. You can also run your favorite Android apps thanks to the brand new Fire OS 4 "Sangria" operating system, an updated and greatly enhanced version of Android.
Bottom line: The Kindle Fire HD 6 is hands-down the best sub-$100 tablet I have ever used. This could easily become the tablet that stays in my pocket around the clock.
Click here (#ad) to read more about the Kindle Fire HD 6 on Amazon, including a full run-down of this awesome tablet's features as well as roughly 200 positive user reviews.