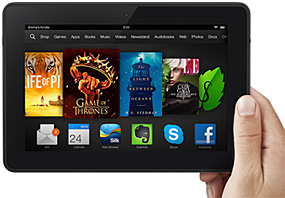 Amazon's new Kindle Fire HDX is the most advanced Kindle tablet ever released. I recently had an opportunity to check it out, and it's an exceptional machine.
In addition to its super-sharp 1920 X 1200 HDX 7″ display, it also features the fastest processor you can get on a 7 inch tablet (2.2GHz quad-core) along with 2GB of RAM for fast, efficient multi-tasking, gaming, and video rendering.
The base model comes with 16GB of flash storage, but you can opt for up to 64Gb if you wish. Battery life is a very respectable 11 to 17 hours, depending on how the tablet is used. 
The built-in b/g/n Wi-Fi adapter is rock-solid, guaranteeing a fast, stable connection to most any decent Wi-Fi network. And if you need 4G connectivity, you can add it for an additional charge.
The Kindle Fire HDX runs the new Fire O.S. 3.0 operating system, an enhanced version of Google Android that supports a number of powerful features such as cloud integration, a built-in Office Suite and media libraries, and much more. Unlike with most cheap Android tablets, web browsing and other Internet-related tasks are fast and smooth, ensuring a pleasant and productive user experience.
Best of all, since it's a Kindle, the Fire HDX is the perfect vehicle for acquiring and enjoying selections from Amazon's massive catalog of digital content such as e-books, games, movies and music.
If you're looking for a powerful, fast and truly useful tablet that won't cost you a ton of cash, the Kindle Fire HDX is well worth a look in my opinion.
Click here
(#ad) to read more about the Kindle Fire HDX on Amazon.