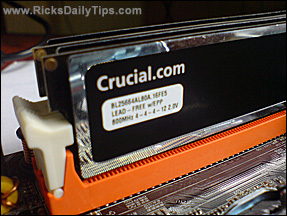 A while back I wrote a post explaining how adding RAM to your computer can give it a major speed boost, but I inadvertently left out a very important detail…
If your computer is still under warranty when you upgrade its RAM, make sure you keep any old memory sticks that you remove from the machine as part of the upgrade process.
That way if something happens and you have to send the computer in for a warranty repair, you can temporarily remove the new RAM sticks and re-install the original ones. 
Why is this important? Because some manufacturers might not want to honor your computer's warranty if you have third party RAM inside it when it goes in for service.
There's also another benefit to holding on to your old memory sticks: If your new RAM ever goes bad, you'll have a known-good spare set to install so you can keep on using your computer while you're waiting for replacement RAM to arrive.
There are a couple of easy ways to safely store your old RAM modules:
1 – Simply place them in the anti-static packaging that your new RAM sticks came in.
Or…
2 – Carefully wrap them in aluminum foil.
Store your old RAM in a cool, dry place for safekeeping. And be sure to remember where you put it so you can quickly retrieve it if you ever need to re-install it.
If you like this post you can get my latest tips in my weekly RicksDailyTips Email Newsletter. Sign up for free at the bottom of this page!