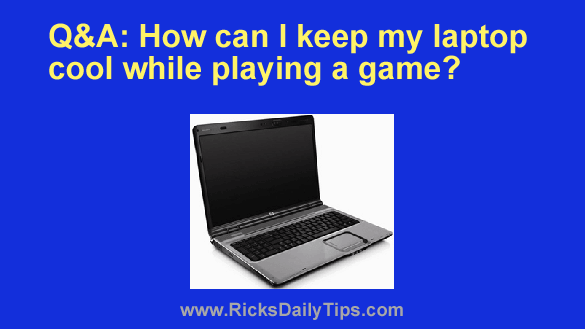 Question from Keenan:  I have a three year old Toshiba laptop that's currently running Windows 10.
I recently began playing a game with my brother and we love it so much that we spend hours at a time playing it.
The problem is the laptop gets very hot and shuts down in the middle of a game, but it only overheats like this when I'm gaming.
I've blown the dust out of this machine but it still overheats. How can I make it run cooler while playing my game? 
Rick's answer: Keenan, modern games often tax the resources of even high-end laptops to the max, causing them to overheat and shut down as you described above.
And as you can imagine, that's a very bad thing because your laptop's CPU and/or other components will eventually die due to the nearly constant overheating.
You mentioned that you have already blown the dust out of your laptop's internals, and that's always a great place to start when troubleshooting an over-heating computer. Now, I would follow up with these seven steps if I were you:
1 – Check to make sure your laptop's fan is working properly. If it isn't, you need to get it fixed ASAP. And by ASAP I mean before you use it to play even one more game.
2 – Make sure your system is completely free of malware. Viruses, trojans, spyware, adware and unwanted toolbars can make even the fastest computer run sluggish and overheat. This post explains how to completely rid your PC of malware.
3 – Make sure that all other programs such as web browsers, email clients, office suites, etc. are shut down when you're playing a game. In fact, the only thing that should be running when you're gaming is the game itself.
4 – You should also use Autoruns to reduce the number of programs that start up along with Windows to the absolute minimum.
5 – Buy a high quality laptop cooling pad (#ad) and keep it underneath your laptop while you're playing games on it.
6 – If your laptop isn't already maxed out on RAM, add more. When Windows is starved for RAM it has to continually swap data back and forth between the hard drive and RAM. That makes both the CPU and hard drive work harder than they really have to in order to keep your games and other programs running smoothly.
You can easily find out if your machine can accept more RAM (and find out what type of RAM you need) by visiting Crucial.com and running their handy System Scanner.
7 – Replace your laptop's hard drive with a super-fast solid state Drive (SSD)
. (#ad)
In addition to making your entire system run a lot faster, an SSD will draw less power and run cooler than a hard drive, both of which will help reduce the amount of heat build-up inside your laptop's case.
I hope this helps, Keenan. Good luck!
---