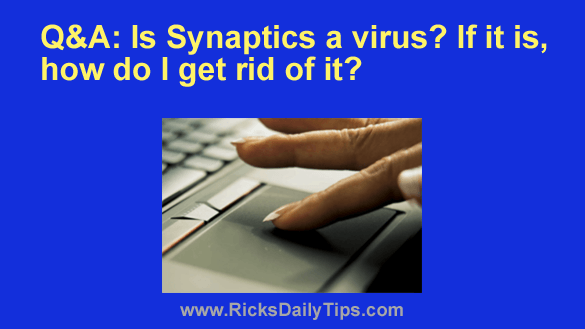 Question from Glenda:  I downloaded Autoruns after reading about it here and it keeps showing something called Synaptics.
This has me a little confused.
Is Synaptics a virus? If it is, how do I get rid of it?
I scanned my laptop with AVG and Malwarebytes and they didn't remove it. Thanks.
Rick's answer:  Glenda, you can rest easy because the Synaptics software you see running on your laptop isn't malware. It's actually the software that controls your laptop's touch-pad.
Synaptics is completely safe and it's essential to the proper operation the laptop. That's why AVG and Malwarebytes failed to detect it during their scans.
It's a good thing that you didn't use Autoruns to disable the Synaptics entries because you wouldn't be able to control your mouse cursor or "click" on anything without it (unless you connected a stand-alone pointing device).
That being said, some people do in fact disable the touch-pads on their laptops if they plan to use them in a set location (i.e. use the laptop as a desktop computer replacement).
In those cases they use a standard wired or wireless mouse and disable the touch-pad to prevent accidental clicks and "mouse" movements while they are typing.
If you're interested, you can learn more about how Synaptics interacts with your laptop by reading this page on the company's website.
Bottom line: Your laptop is fine, Glenda. You can safely ignore the Synaptics entries you see when you use Autoruns.
Bonus tip: This post explains how to get detailed information about your PC's hardware with a fantastic free tool called HWiNFO.
---