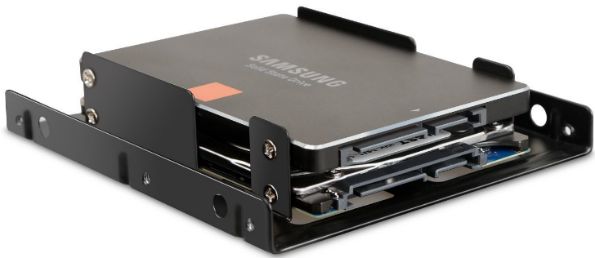 Regular readers of this blog know I'm always talking about how replacing a computer's hard drive with an SSD provides more "bang for the buck" than just about any other hardware upgrade you can make.
The only other upgrade that even comes close is a RAM upgrade, and that's only true if the machine is running low on RAM in the first place.
Luckily, swapping out the hard drive for an SSD in most laptops is a breeze. Since both drives are typically 2.5 inch drives it's literally as easy as removing the hard drive and installing the SSD in its place. A fast and easy process.
However, that isn't the case with most desktop PCs.
If you take the cover off of your desktop computer and look inside you'll probably discover that there's no 2.5 inch drive bay. That's because most desktop computers have 3.5 inch hard drives instead of the 2.5 inch drives found in most laptops.
But don't despair because you'll still be able to install an SSD in your desktop machine even if it doesn't have a 2.5 inch drive bay. All you need is 2.5 inch to 3.5 inch drive bracket adapter.
There are many of these bracket adapters on the market, and I've used and recommended several different ones in the past. But I recently received one for review that I like more than all the ones I've used before.
The Inateck 2.5 inch to 3.5 inch SSD Mounting Bracket Adapter (#ad) has three advantages over many of its competitors:
1 – This bracket is made all in one piece. There are no additional parts that you need to add to it. Simply insert the drive(s) into the bracket and fasten it in place with the included mounting screws, then install the bracket into an open 3.5 inch bay.
2 – In addition to the bracket itself, this kit also includes a 15 pin to dual 15 pin SATA power cable and two SATA data cables. You typically have to purchase these cables separately if your computer doesn't have them already installed (and many computers don't).
3 – It even comes with a screwdriver that perfectly matches the heads on the included mounting screws!
Here's a photo that shows everything you get with this 2.5 inch to 3.5 inch bracket adapter kit: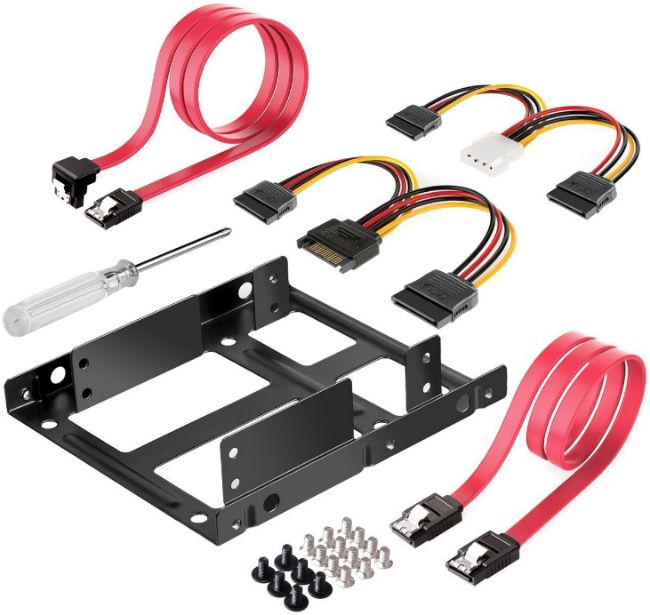 As you can see, this kit includes literally everything you're likely to need in order to install your new SSD in a desktop PC that only has 3.5 inch drive bays.
What's more, you get all these extras for about the same price you'd have to pay for just the mounting bracket if you were to choose a different brand and model!
I found it quite easy to install a couple of drives in this particular bracket, unlike some that I've used in the past.
This bracket is well-built and sturdy, ensuring that your SSD(s) will remain firmly in place for years to come.
Bottom line: While you could always save a buck or two by purchasing a cheaper bracket, I believe the advantages I listed above make this nifty kit the best true value you're likely to find.
Click here (#ad) to read more about the Inateck 2.5 inch to 3.5 inch SSD Mounting Bracket Adapter at Amazon, including hundreds of overwhelmingly positive user reviews.
Bonus tip: Want to make sure you never miss one of my tips? Click here to join my Rick's Tech Tips Facebook Group!
---
Do you have a tech question of your own for Rick? Click here and send it in!
If you found this post useful, would you mind helping me out by sharing it? Just click one of the handy social media sharing buttons below.