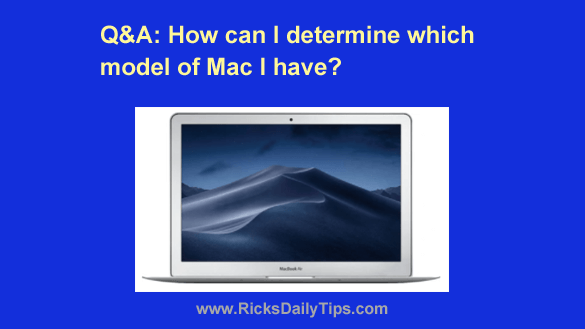 Question from Paul:  I went to an estate sale and bought what I'm pretty sure is a MacBook Air.
That's what they told me anyway.
How can I determine the exact model number? I'm eager to find out exactly what I bought. LOL
Rick's answer:  Paul, you have several options for determining  which model of MacBook Air you purchased.
Here are the two I use most often…
First, if the system will boot up to the desktop you can simply check the "About this Mac" screen. Here's how:
1 – Turn the laptop on and wait for it to finish booting to the Desktop.
2 – Click the Apple icon on the menu in the top-left corner of the screen.
3 – Click About This Mac.
If the system won't boot up you can get the model info by entering the laptop's serial number into a form on the Apple website. Just follow these steps:
1 – Turn your MacBook over and retrieve the serial number that's printed on the bottom of the case.
2 – Type the serial number into the box on this page.
You should now see the laptop's model number and warranty status listed on the screen.
That's all there is to it, Paul. As you can see, Apple makes it very easy to determine the model number of any MacBook.
Bonus tip: This post explains how to use Apple's handy Time Machine utility to back up the files stored on any Mac (including your "new" MacBook).
---