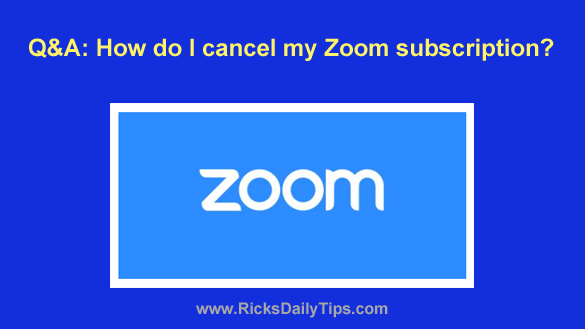 Question from Kendall:  A few days ago I read your warning about how the login credentials for thousands of Zoom accounts are actively being sold on the dark web.
I wish I had found out about this before I signed up for a paid subscription. Better late than never (I hope!).
I'm sort of in a panic right now because Zoom – and possibly the hackers – has my debit card information.
I'd like to cancel my Zoom subscription but I can't find a way to do it.
Can you tell me how to cancel it (or at least give me the link to the page where I do it)?
Rick's answer:  I can certainly understand your panic over this, Kendall.
I don't have a Zoom account myself, but if I did I would have closed it in light of the massive data breach. And like you, I'd be really worried if I knew they had my debit card info.
To answer your question, you'll find detailed instructions for canceling your Zoom subscription on this page of the Zoom website.
I would have posted the steps required to cancel a subscription here, but the actual steps for doing things like this tend to change fairly often so I thought it best to simply link to Zoom's own instructions.
You didn't mention anything about actually closing your Zoom account, but I can tell you that plenty of folks have done that as well.
If you decide to ditch Zoom altogether you'll find instructions for completely closing your Zoom account right here.
I hope this helps, Kendall. Good luck!
Update from Kendall:  Thanks for the links, Rick. I've canceled my subscription but I'm planning to leave my Zoom account active for now to see how all of this shakes out.
---
Never miss a tip!  Click here to sign up for my free Daily Tech Tips Email Newsletter!