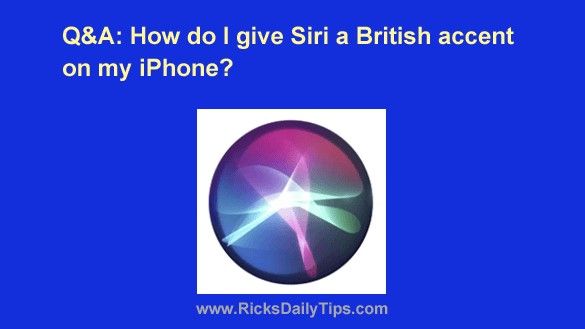 Question from Susan D.:  I was waiting to get on the subway the other day when the guy sitting beside me pulled out his iPhone and asked Siri a question.
I was shocked when Siri answered him because she used a British accent.
I thought that was SO cool!
Can I change my own iPhone to speak with a British accent?
Rick's answer:  Susan, you certainly can instruct Siri to speak with a British accent on your iPhone (or on an iPad for that matter). Simply follow the steps below:
1 – Tap Settings.
2 – Tap Siri & Search.
3 – Tap Language.
4 – Tap Siri Voice.
5 – Select English (United Kingdom).
That's all there is to it Susan. Siri should now respond to your queries with a British accent.
And by the way, if you ever tire of hearing Siri respond with a British accent you can always go back into the settings and change the language to Australian English or one of the other available English accents.
Update from Susan:  Who knew this would be so easy? I ended up going with the Australian accent instead of English because, well, I'm not sure why LOL. Thanks for your help!
Bonus tip: This post explains why you don't need an antivirus app for your iPhone or iPad.
---
Never miss a tip!  Click here to sign up for my free Daily Tech Tips Email Newsletter!