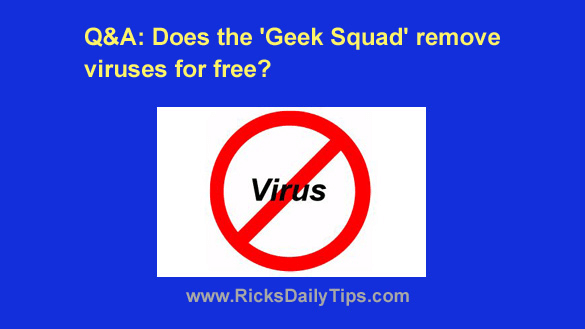 Question from Barbara:  My computer has started giving me all kinds of pop-ups and taking me to the wrong web pages when I click a link in Firefox.
In other words, it's acting really strange. I believe it might have viruses on it.
My boss told me that the Geek Squad at Best Buy will remove viruses for free. Is that true? 
Rick's answer:  It sounds like your boss has given you faulty information, Barbara. The techs at Geek Squad won't do anything to your computer for free, and that definitely includes malware removal.
While their services aren't cheap, I do believe their fees are reasonable. And they typically do good work with fast turn-around times.
You can easily find out about how much they would charge you to remove the malware from your PC by calling your local Best Buy store and asking for a quote.
Alternatively, you can initiate a "chat" with them on the Geek Squad Support Page.
You can also call a couple of local computer repair shops and get their estimates as well.
Most locally-owned shops do a great job and their prices are usually very competitive, especially if you let them know up front that you're shopping around for the best deal.
Now all of the above being said, I recommend that you first try to remove the malware from your system yourself (and hopefully save some cash). It isn't difficult to do, but be aware that it does take a good while to run all the scans you'll need to run.
If you'd like to give it a try, this post gives step-by-step instructions for completely ridding your PC of malware.
I hope this helps, Barbara. Good luck!
Bonus tip: Many viruses are downloaded by clicking links in fraudulent emails. This post explains how to identify those types of emails so you can avoid them.
---