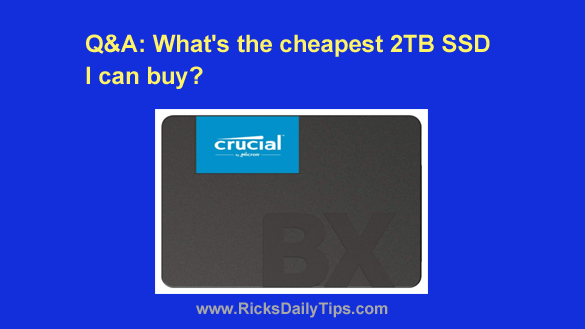 Note: The links in this post are affiliate links.
Question from Marshall P.:  I really want to buy a 2TB SSD to go in my Dell desktop computer that I use to run my landscaping business.
Can you help me find the cheapest 2TB SSD that I can buy that's not a piece of junk?
I've been shopping around but all the drives that size are really expensive.
Basically, I'm just looking for a cheap, but reliable drive that will speed things up in the office without me having to worry about losing all my data to a drive failure.
Rick's answer:  I feel your pain, Marshall. Even though the prices of solid state drives have dropped dramatically in the last year or so, larger models will still set you back hundreds of dollars.
I did some checking around and discovered that you can get a top-rated Crucial BX500 2TB SSD for around $200 – and possibly even less.
I know that isn't dirt cheap, but it's only a few bucks higher than most lesser-quality SSDs.
You don't have to worry about the quality of this drive because it's made by Crucial, a recognized leader in the manufacturing of RAM and flash storage media.
It also has over 47,000 user reviews on Amazon, the vast majority of which are a full 5 stars.
The above being said however, ANY solid state drive can fail, potentially causing data loss. That's why I always recommend having a good backup routine in place.
This new SSD is going to go in your work PC so I strongly suggest that you get into the habit of creating regular System Image backups if you aren't doing that already. And I would say this no matter which SSD you decided to buy.
Bottom line: While this 2TB drive from Crucial isn't the fastest SSD you can buy, I believe it's a great deal given it's huge storage capacity and relatively low price.
Click here to check out the Crucial BX500 2TB SSD at Amazon.
I hope this helps Marshall. Good luck!
Update from Marshall:  That's exactly what I was looking for Rick. I had actually seen this drive myself but I wanted to see what you recommended before I made a decision. Thanks for your help!
---
Never miss a tip!  Click here to sign up for my free Daily Tech Tips Email Newsletter!