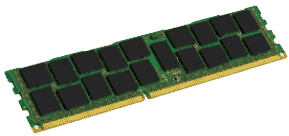 Question from Eric:  My computer's manual says the motherboard supports DDR3 RAM at speeds up to 1333Mhz.
I want to replace the old RAM sticks with new ones to max it out but right now the slowest DDR3 RAM sticks I can find locally are rated at 1600Mhz.
I don't want to order online if I can possibly avoid it but I don't want to damage my computer either.
Can my computer use the faster RAM or would it cause problems?
Rick's answer:  Eric, the short answer to your questions is yes. Your computer will work just fine if you install the faster RAM. It will simply run at the slower 1333Mhz speed.
Your motherboard will recognize those faster RAM sticks as being compatible (because they are) and allow the system to boot up and operate normally after you install them.
There are a couple of caveats to keep in mind however:
1 – Make sure the total amount of RAM you're planning to install (i.e. the capacity of all the individual RAM sticks added together) doesn't exceed the maximum amount supported by your motherboard.
For example, if your motherboard supports a maximum of 8GB then you won't be able to install any more than that..
2 – Make sure you don't purchase individual RAM sticks that are larger than your motherboard can accept.
For example, if your motherboard supports a maximum of 16GB but it can't handle RAM sticks larger than 4GB, you'll need to install four 4GB sticks instead of two 8GB sticks.
I hope this helps, Eric. Good luck!
Bonus tip #1: I'm assuming you're wanting to boost the amount of RAM in your computer to make it run faster. If that's the case you should also consider adding a super-fast SSD to your computer as well.
Adding both more RAM and a solid state drive would speed up your computer so much you'll probably think it's on steroids!
Bonus tip #2: Want to make sure you never miss one of my tips? It's easy! Just…
Click here to sign up for my free Rick's Daily Tips Email Newsletter!
---
Would you like to ask Rick a tech question? If so, click here and send it in!
If you found this post useful, would you mind helping me out by sharing it? Just click one of the handy social media sharing buttons below. Thanks a bunch!