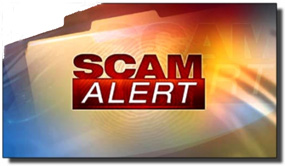 A few months ago I wrote about an awesome anti-malware program called AdwCleaner.
This free utility will quickly scan for and remove virtually every type of unwanted toolbar, adware and browser hijacker that's out there from your computer.
As I explained in the post, AdwCleaner works great, and since it's free I highly recommend that everyone download it and run it on occasion.
Well, now the scammers have turned the tables on AdwCleaner by creating a fake look-alike program that claims to be the real AdwCleaner, but is actually malware.
This is how the scam works: 
1 – You click a link in an email or on a malicious website and a malware program gets downloaded and installed on your PC without your knowledge.
2 – At some point in the future a box pops up on the screen warning you that Adware has been detected on your system. If you click the "Ok" button you'll receive another message recommending that you download AdwCleaner. The problem is the download link is for a fake AdwCleaner look-alike which is actually malware itself.
If you end up downloading the fake program, it'll look A LOT like the real AdwCleaner. After it "scans" your system, you'll receive another notice telling you that malware has indeed been found, and AdwCleaner can remove it for you but you'll have to pay $59.99 for the "full version".
If you buy that "full version, you'll end up with a worse than useless program that will do nothing whatsoever for you. And since you bought their fake software, the scammers now have your credit card card information!
Bottom line: Don't fall for the fake AdwCleaner scam. It's easy enough to avoid if you just keep in mind that the real AdwCleaner will NEVER be marketed via a pop-up box telling you that you need to download it. What's more, the free version of the real AdwCleaner will find and remove malware all on its own. You DO NOT have to buy a full version!
If your PC becomes infected with this insidious form of malware, I recommend following the steps outlined in this post to remove it from your system. Chances are if you have this malware on your system, you have a lot of others as well.

And one last thing: The real AdwCleaner is still an amazing program, and I still strongly recommend that you download it and run it on occasion. Just make sure you download it from the real download page (you'll find a link to it in this post).