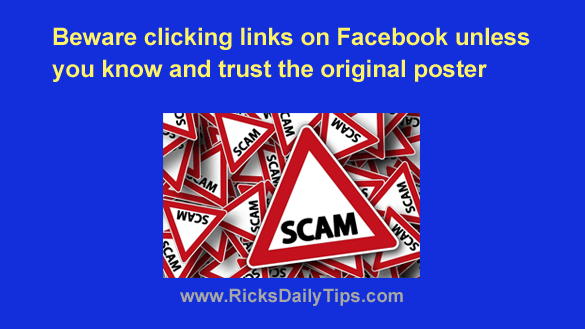 Germany's Friedrich-Alexander University conducted a study to determine how many Facebook users click on links without knowing the people who posted them.
To say the least, the results are shocking.
The study found that approximately 40% of all Facebook users click on links that were posted by people they don't even know, let alone trust.
What's more, they also found that a whopping 56% of email users click on links in emails from unknown senders, the vast majority of which are likely phishing emails sent by hackers and online crooks. 
And perhaps even more shocking is the fact that many of the people who responded to the survey said they know that clicking links that were posted or emailed by strangers can lead to virus infections and other serious problems, but they do it anyway simply because they are curious about where the link will take them!
Just so you'll know, this study was conducted back in 2016. But human nature being what it is, I'm fairly certain the results still hold true today.
My advice is to avoid clicking any links on Facebook unless you know and completely trust the people who posted them AND you know for a fact that the account the link was posted from is legitimate since fake clone accounts are rampant on Facebook these days.
Of course if you know and trust the original poster and you're absolutely sure they're the one that posted a link, you can probably go ahead and click it with no problems.
Links in emails are ALWAYS dangerous, however. That's why I recommend that you be extremely careful about clicking on them even if you know and trust the sender completely.
Email addresses are stolen and spoofed all the time, and just because the Sender appears to be a friend, a family member, a colleague or a company you do business with, there's always a strong chance that it actually came from a scammer.
And finally, if you do accidentally click on a bad link that you suspect might have infected your PC with a virus, you can follow the steps listed in this post to track the virus down and get rid of it.
---