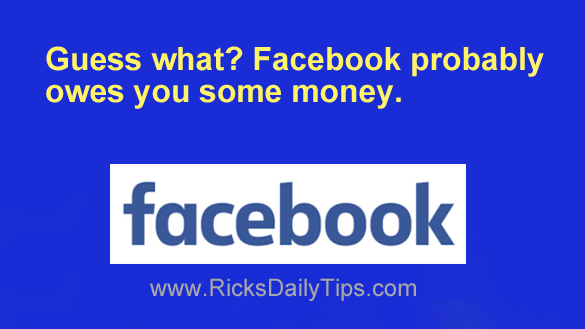 Were you a Facebook user residing in the United States between May 24, 2007, and December 22, 2022?
If so, Facebook probably owes you some cash. And no, today isn't April 1, and this isn't a joke.
Back in April of 2018 I wrote this post that explains how to check to see if your info was compromised via the Cambridge Analytica data breach that affected millions of Facebook users.
In case you've forgotten about it, that data breach resulted in Facebook getting hit with a massive class action lawsuit seeking damages for the affected users.
Well, a settlement has finally been reached in that case.
If you were a U.S. based Facebook user between the dates I mentioned above, there's a good chance that Facebook owes you some money due to that settlement.
The thing is, you won't be awarded any cash automatically. You'll have to apply for it.
There are two ways to apply for your portion of the settlement money:
First, you can respond to the notification Facebook will send you. You'll see this notification listed along with all the other notifications you receive while you're using the Facebook website or app.
The notification should read like this:
"You may be eligible to receive payment from a lawsuit that was recently settled. Learn more."
If you click on that notification you'll be taken to a page with this message on it: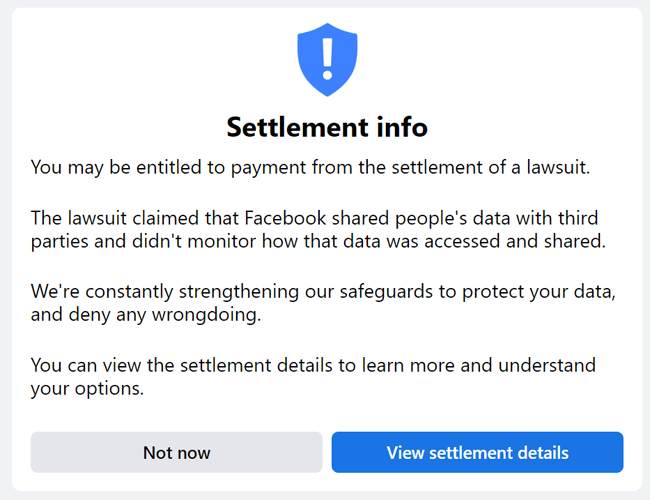 This message is not a scam if you received it after clicking on the notification I described above. It really is from Facebook and it's 100% legitimate.
However, if you see a similar message just appearing from out of the blue in your newsfeed it could well be from a scammer hoping to piggyback off Facebook's settlement to make a few bucks of his own (at your expense).
Therefore, you should only respond to this notice if you received it after clicking on the official notification from Facebook.
Second, you can visit the official settlement website directly at this URL (which is what I recommend):
https://facebookuserprivacysettlement.com
You should only apply at that specific URL. Any other website claiming to allow you to sign up for this settlement will be a scam.
What to expect after you apply…
It's important to understand that not everyone who applies will qualify to receive a settlement payment, even if they were using Facebook during the affected dates. There are specific criteria that an account must meet in order to be eligible.
What's more, the payouts received via class action settlements tend to be relatively small. That means if you qualify for a payment you shouldn't plan on retiring early (or even buying a car) from it.
Bottom line:  The notification you'll receive from Facebook about applying for your portion of this settlement payout is real. Just make sure you only respond to the official notification that will arrive along with all the other regular notifications Facebook gives you.
And if you want to be absolutely sure you're applying on the official settlement website, apply directly at the URL I listed above.
---