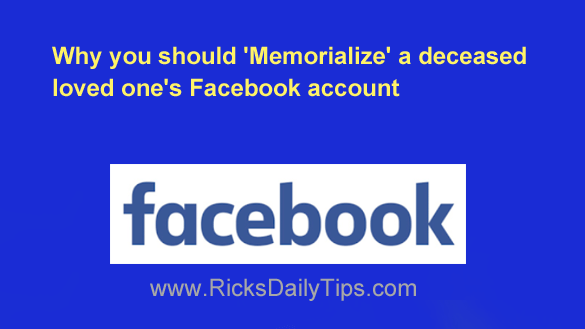 Have you have ever posted a birthday wish to a Facebook friend's Timeline only to find out they had passed away?
If so, you know how embarrassing that can be.
Even worse, it can often be painful for a deceased person's family members to see birthday wishes from people who weren't aware of the person's passing show up on his/her Timeline.
Once an account has been memorialized, Facebook will no longer send birthday reminders to the deceased user's friends. 
That's one of the main reasons why I strongly recommend having Facebook 'Memorialize' the accounts of your loved ones after they pass away.
There are other reasons why I recommend it as well:
1 – Memorializing an account will prevent malicious strangers from making hurtful or embarrassing posts on the account's Timeline.
2 – Memorialized accounts no longer show up in the "People you may know" section on Facebook.
3 – Memorialized accounts cannot be hijacked by hackers because no one will be allowed to log into them. Hackers and scammers love taking over the accounts of deceased users because those accounts are often abandoned and left unmonitored by friends and loved ones.
4 – After it has been memorialized an account will no longer be able to receive friend requests.
Bottom line: When a loved one passes away it's important to have their Facebook account either memorialized or deleted altogether.
If you want to ask Facebook to memorialize a deceased loved one's account, you'll find more information and instructions for doing so in this post.
Important: If you are able to log into the deceased person's account, I recommend that you review all the account settings, privacy levels and such BEFORE you submit the memorialization request.
Once an account has been memorialized its settings and privacy levels will be locked in place forever. Memorialization cannot be reversed so make sure the account is exactly the way you want it before you proceed!
---