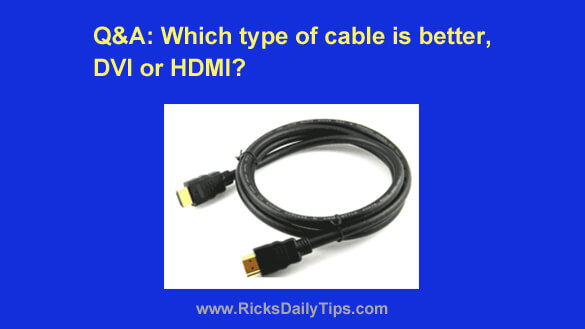 Note: The links in this post are affiliate links.
Question from Stephanie:  I need some advice Rick. I've done quite a bit of research on video cables and I'm still confused.
I'm getting ready to order a new computer and monitor from Amazon. I've already selected the computer and monitor, but now I have to decide on a video cable.
I have the option of using either DVI or HDMI, but I don't know which I should choose. Do you have a suggestion?
Rick's answer:  Stephanie, both DVI and HDMI are digital standards so you should get awesome video quality regardless of which you choose. But HDMI will give you more flexibility in my humble opinion. Here's why I say that:
1 – HDMI supports audio as well as video. If your new monitor has built-in speakers (and you plan to use them) you won't have to connect a pair of external speakers to your PC with an extra cable.
2 – Lots of other devices besides just computers and monitors use HDMI. That means you'll be able to re-purpose your HDMI cable at some point in the future by using it with a TV or some other HDMI capable devices if the need ever arises.
Recommendation: I were you I would go with an HDMI cable for the reasons stated above.
Bonus tip: If you decide to go with an HDMI cable, you don't really need to buy an expensive one. Read this post to find out why.
---
Never miss a tip!  Click here to sign up for my free Daily Tech Tips Email Newsletter!