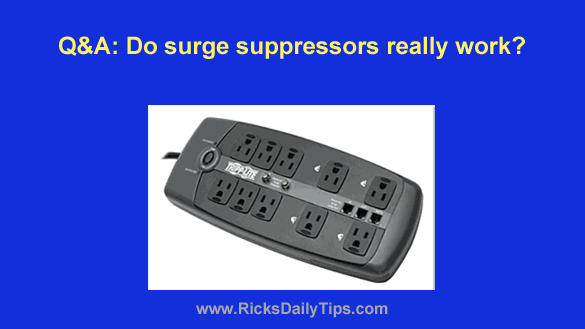 Note: The links in this post are affiliate links.
Question from Ana: I bought a new iMac from Best Buy a couple of years ago.
I also bought a surge suppressor to go with it because the salesman said it would prevent the computer from being damaged by lightning.
We had a thunderstorm last night and our power went off. It came back on a couple of hours later but now my TV, dishwasher and iMac are all dead. None of them will do anything when I turn them on.
My question is, do surge suppressors  really work?
The iMac was plugged into the one I bought with the computer when the storm passed through but it still got zapped.
The reason I ask is because I'm going into town later today to buy a new computer and I don't see the need to buy a surge suppressor if it won't really protect the computer.
Rick's answer: I'm glad that sales person talked you into buying the surge protector, Anna. While they aren't perfect, they really do protect computers and other electronic devices from all but the strongest power surges.
Just so you'll know, I have all of my electronic gear plugged into either a surge protector or a battery backup device, and I'll never stop using them.
All of that being said, although what the sales person told you about the effectiveness of a surge protector was accurate, it wasn't complete.
Surge protectors will indeed protect computers and other electronic devices from power surges and most distant lightning strikes, but they can't prevent a direct lighting strike from causing damage to connected devices.
A lightning bolt that directly strikes a power line in the vicinity of your home can easily over-power even the best consumer-grade surge protectors. That's just the way it is.
However, that doesn't mean you should try to save a few bucks by not buying a new surge suppressor to protect your new computer!
While they can be ineffective against direct lightning strikes, a quality surge protector will stop most strong power surges and prevent them from damaging the gear that's plugged into them.
That same surge protector that failed during this particular storm could well have saved your iMac from damage at least once or twice during the time you've owned it.
In other words, if you hadn't had your computer plugged into a surge protector you could well have lost it to a power surge or lightning strike a lot sooner than you did.
Bottom line: I recommend that you purchase a new high-quality surge protector to protect your new computer from routine power surges and distant lightning strikes. In my opinion the money you spend on it will be well spent.
Even better, opt for a quality battery backup unit instead of a surge protector.
In addition to having effective surge suppression built right in, a battery backup device will also keep your computer running long enough during a power outage for you to save any open files and shut the machine down in an orderly fashion.
Bonus tip: It's possible to get a single device (called a Whole House Surge Suppressor) that will protect all the electronic devices in your home at the same time. These devices work extremely well, and they're quite affordable.
---
Never miss a tip!  Click here to sign up for my free Daily Tech Tips Email Newsletter!