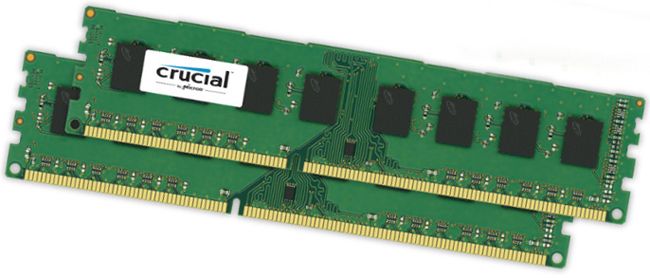 Question from Pete:  I have a Dell desktop computer that came with 8GB of RAM and Windows 7. I have since upgraded it to Windows 10.
According to the specs I found online this machine can use up to 16GB of RAM.
I know that adding more RAM to a computer makes it run faster. My question is would doubling the amount of RAM in this particular computer to 16GB make it run a LOT faster?
I checked around and it looks like I can buy 8GB of RAM for about $60. That's a lot of money for me right now so I don't want to waste it by buying something that won't really help me.
Do you think maxing out the RAM in this computer will really make a lot of difference?
I would really appreciate your advice. Thanks!
Rick's answer:  Pete, there are really too many potential variables involved with your situation to give you a definite yes or no answer.
But that being said, here are a couple of things to consider while you're trying to decide if it would make sense to spring for this RAM upgrade:
1 – What is this computer primarily used for?
If all you do with this PC is visit websites, check your email, use social media, use some type of "Office" software or watch Youtube videos, then adding an additional 8GB of RAM to the system isn't likely to speed things up all that much.
Truth be told, 8GB is really plenty of RAM for those activities in my opinion.
However, if you do a lot of photo or video editing, play resource-intensive games or do anything else that can really benefit from having lots of RAM then an extra 8GB of RAM could make a world of difference.
2 – How many RAM modules are already installed in the system?
Depending on how many RAM modules are already installed, those existing RAM sticks might be using up all of the motherboard's RAM slots.
You didn't mention how old this machine is, but since it came with Windows 7 on it there's a good chance that it contains four 2GB RAM sticks. If so, that almost certainly means there are no empty RAM slots available for adding extra RAM.
If that's indeed the case, you would need to completely replace all four of the existing RAM sticks if you wanted to max out this system's RAM at 16GB.
Of course if this system has four RAM slots with two 4GB RAM sticks installed, you would only need to purchase two additional 4GB sticks and install them in the empty slots. If you end up doing that I strongly recommend that you purchase RAM that exactly matches the specs of the RAM sticks that are already in there.
As you can see, deciding whether a RAM upgrade is worth the money isn't always easy.
You'll first need to determine if the way you use the computer will allow you to really benefit from the upgrade.
If you determine that it will, you'll then need to find out the PC's current RAM configuration and use that info to determine which RAM sticks you'll need to buy and how many of them you'll need.
The easiest way to do that is to visit Crucial.com and run their handy System Scanner tool. That tool will tell you exactly how many RAM sticks are already installed, what their specs are and how many open RAM slots (if any) are available.
You can use the info obtained by the System Scanner tool to determine exactly what you'll need to purchase to complete the upgrade. If you decide to proceed you can simply order the RAM directly from Crucial or use the info gathered by the tool to purchase it elsewhere.
And now, here's one last thing for you to consider…
Before you make a final decision about this RAM upgrade, I recommend that you also consider spending that cash to purchase a solid state drive (SSD) instead.
Unless you're using this machine for tasks that could greatly benefit from an extra 8GB of RAM, adding an SSD to your computer will almost certainly give you the greatest speed increase for the money spent. Just sayin'.
While it's true that $60 will only buy a relatively low-capacity SSD, installing Windows and a couple of your most-used programs on it and leaving everything else on the hard drive would make a huge difference in the apparent speed of your PC.
I hope this helps, Pete. Good luck!
Update from Pete:  Thanks for that detailed answer Rick. It really helped me a lot.
According to the Crucial tool I'd have to replace all of my existing RAM and I really don't want to do that. I did decide however to replace the hard drive with an SSD like you suggested.
I ordered a 240GB SSD from Amazon for $40. I'll let you know how it turns out after I get it installed.
Thanks again!
Bonus tip: Want to make sure you never miss one of my tips? It's easy! Just…
Click here to sign up for my free Rick's Daily Tips Email Newsletter!
---
Would you like to ask Rick a tech question? If so, click here and send it in!
If you found this post useful, would you mind helping me out by sharing it? Just click one of the handy social media sharing buttons below. Thanks a bunch!