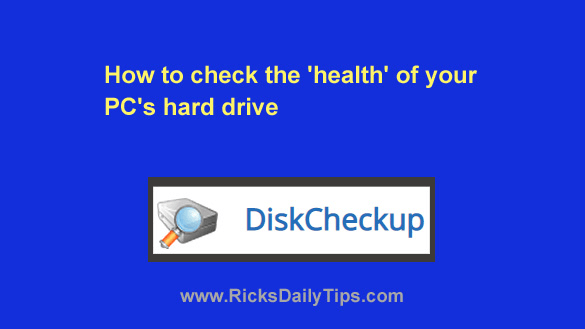 Personal computers are amazing things. They allow us to do things and work in ways that were simply unimaginable just a few short years ago.
But they are also complex machines that run millions of lines of programming code each day while storing our digital lives on hard drive platters that spin thousands of times per minute.
The hard drive is arguably the most important part inside any PC, and unfortunately it is also the most likely part to fail. 
In fact, if you use the same PC for several years the chance of the hard drive failing at some point is pretty close to 100%.
And when a hard drive fails, it often does so with no apparent warning, taking all of your irreplaceable data and files along with it. If you don't have a current backup, you're in real trouble.
Wouldn't it be great to find out that your hard drive is likely to go belly up early enough to create a fresh backup and clone your hard drive onto a new replacement drive before it actually crashes?
Well, a wonderful free Windows utility called DiskCheckup is just what the doctor ordered!
Modern hard drives are equipped with SMART (Self-Monitoring Analysis and Reporting Technology), a feature that provides a number of indicators of disk reliability.
DiskCheckup monitors those indicators and compares them to the threshold parameters set by the manufacturer for that specific drive.
If one or more of those indicators goes south, DiskCheckup will send you an email letting you know that the hard drive is likely to fail.
I don't recommend waiting for DiskCheckup to tell you it's time to back up your hard drive. After all, some drives just die on the spur of the moment like any other piece of mechanical/electrical hardware.
But it sure can come in handy if you haven't backed up your drive in a while and the drive's SMART technology detects a problem!
DiskCheckup is absolutely free for personal use. To download your free copy, click here to visit the download page, then click on the blue Download button.
Bonus tip: If your hard drive IS getting ready to fail, now would be a perfect time to upgrade your computer by installing a super-fast solid state drive (SSD).
---