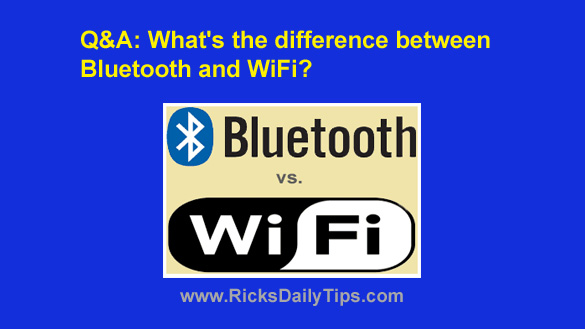 Question from Mary Anne:  After using a flip phone for years, I finally decided it was time to upgrade to a smart phone.
I found a good deal on a new iPhone at Best Buy, so I bought one. I like the phone ok, but some things about it are really confusing.
For example, my phone's user manual says it supports both Bluetooth and WiFi wireless connectivity.
What is Bluetooth and how is it different from WiFi? 
Rick's answer:  Mary Anne, WiFi and Bluetooth are both wireless technologies, but they are completely different and serve completely different purposes.
WiFi is primarily used to wirelessly connect smart phones, computers and other devices to the Internet and/or a local network. In other words, a WiFi connection basically replaces the Ethernet cable that is used to connect a device to a router.
If your home or place of business has a wireless router installed, you either already have a WiFi network in place or you can easily set one up by following the instructions in the router's user manual.
Bluetooth is primarily used to connect a smart phone, a tablet or some other computing device to an external peripheral such as a Bluetooth headset, speaker or keyboard.
Bluetooth-capable peripherals will typically have the word Bluetooth somewhere in the name or description.
If you don't use any Bluetooth peripherals with your iPhone, you can (and should) disable Bluetooth in the Settings menu in order to conserve the charge on your phone's battery.
Smartphone users and users of other mobile devices that support cellular connections can choose to have their devices connect to the Internet either via WiFi or their cell carrier's data network.
Whenever one is available I recommend always using a secure Wi-Fi connection (one that requires a password to access it) when using the Internet with your phone, tablet or other mobile device, for two reasons:
1 – Even with the recent proliferation of 5G, a strong WiFi connection is likely to be faster than your cell carrier's data connection (under most common circumstances).
2 – The data that's sent and received over WiFi doesn't count toward your cell plan's data cap.
I hope this helps, Mary Anne. Good luck with your new iPhone!
Update from Mary Anne:  Thanks for that very clear explanation Rick. I understand the difference now.
Bonus tip: Since you're just getting started with your first smart phone, you might want to also read this post that explains what Airplane Mode is (and when it helps to use it).
---