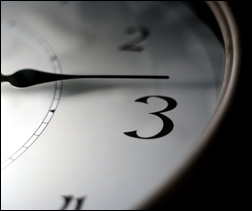 Question from Ron K.:  Rick, this might seem like a frivolous question (and I admit that it is), but is there any way to determine the total number of hours and minutes that my Dell desktop computer has been powered on since I bought it in May 2008? No biggie if there isn't, I'm just curious.
Rick's answer:  That isn't a frivolous question at all Ron. Now you have me curious about how long my PCs have been powered up as well.
To answer your question, I don't know of any way to use Windows itself to determine the total uptime of a computer, but I do know of a way to get a fairly accurate estimate: 
1- If you don't have it on your system already, download the popular disk defragging utility Defraggler from this page and install it.
2 – Load the program and click the Health tab (you'll find it near the middle of the program window).
3 – In the box on the right, look for the entry labeled Power-On Hours (POH). The time listed there reflects how many hours the hard drive has been powered up since day one.
While the Power-On time for the hard drive won't match the number of hours the entire PC has been powered up exactly, it'll probably be just about the most accurate estimate you're going to be able to get. I hope this helps!
By the way, Defraggler isn't just a handy way to learn how long your computer has been powered up. It's also one of the best disk defragmentation utilities that I have ever used. This post has more info about it if you're interested.
Photo credit: Chris Gilbert
Update from Ron: It sure does Rick. Exactly what I was looking for in fact. Thanks a lot!
---
Do you have a tech question of your own for Rick? Click here and send it in!