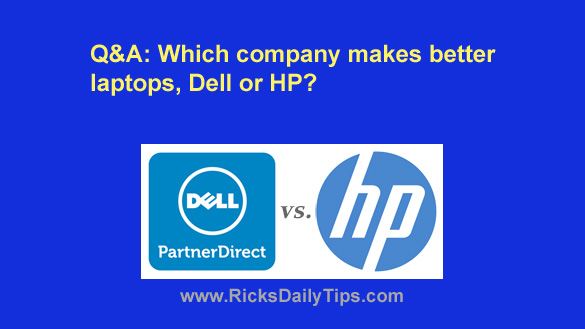 Note: The links in this post are affiliate links.
Question from Anita Q.:  I'm planning to buy a new laptop to replace my OLD Gateway T-6815 after it finally bit the dust.
I was hoping to buy another Gateway since I had such good luck out of the old one, but I heard that Gateway is now out of business.
I've been asking around about recommendations for a different brand, and most people seem to like either Dell or HP. The problem is there doesn't seem to be a consensus.
I've been following your blog for a while now and I really trust your judgment. Which is better in your opinion, Dell or HP?
Rick's answer:  Thanks so much for following my blog Anita. I appreciate it very much!
As far as your question is concerned, here's my answer: Between Dell and HP, which is the better brand depends on who you ask.
I know that's a very poor answer, but it's really the best one I have for you.
The fact is, both companies make quality laptops. Unless you end up buying a lemon, either brand is likely to give you great service.
This is similar to the perpetual Nikon vs. Canon debate in the camera world. Both companies make awesome cameras, but which one is best depends on who you ask.
Bottom line: I recommend that you check out laptops from both HP and Dell and make your decision based upon the user reviews and star ratings on Amazon.
As a general rule, I always recommend choosing a model that has at least a 4 star rating and at least 100 overwhelmingly positive user reviews.
While there are no guarantees (after all, every company on the planet makes a lemon on occasion), if you choose a machine that lots of other folks have already purchased and like, chances are you will be happy with your purchase too.
I hope this helps Anita. Good luck!
Bonus tip: This post offers several tips for choosing the best computer for your needs.
---
Never miss a tip!  Click here to sign up for my free Daily Tech Tips Email Newsletter!