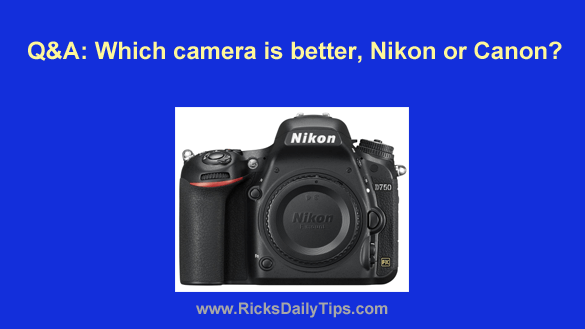 Note: The links in this post are affiliate links.
Question from Michael S.:  Rick, I have a question for you about cameras. Which brand is better, Nikon or Canon?
My daughter is wanting to get more deeply into photography and I need to buy her a DSLR. Some people are saying to get her a Canon and others are saying Nikon.
We don't have a clue who to believe because I don't know the first thing about DSLRs. I trust your judgement, so between Canon and Nikon, which do you think is the best?
Rick's answer:  Michael, the Canon vs. Nikon debate has been raging for years, and everyone has their own opinion about which brand is best.
When it comes right down to it, there is really little, if any difference between the two in terms of quality. The fact is, both Canon and Nikon make excellent cameras.
Personally, I use Nikons because my first DSLR was a Nikon, and staying with the same brand makes it easier to move to a newer model, for several reasons. But if I was shopping for my first DSLR today, I would feel equally comfortable going with either a Nikon or Canon.
The main thing you need to be concerned about it getting the best deal for your money. Shop around and compare comparable models from both companies.
Be sure to compare specs as well as any included lens(es) and accessories. But don't get too hung up on Megapixels because most any modern DLSR will be fine for your daughter's shooting and enlarging needs while she is honing her photography skills.
To make your comparison easier, here are links to current DSLRs from both Canon
and Nikon
.
Bonus tip: This post explains why the "Nifty-Fifty" is my favorite general-purpose lens.
---
Never miss a tip!  Click here to sign up for my free Daily Tech Tips Email Newsletter!