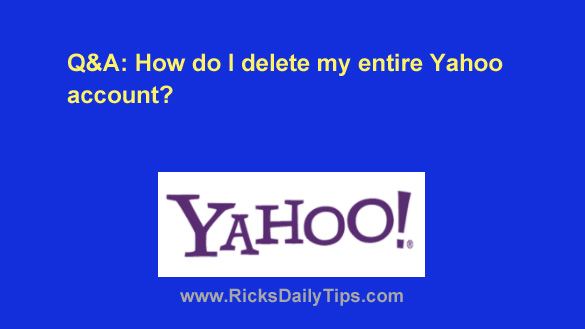 Question from Cynthia:  I've used Yahoo Mail for many years and a few other Yahoo services at one time or another.
But I recently started having all kinds of trouble with Yahoo so I switched from Yahoo Mail to Gmail. I don't plan to ever use Yahoo again.
I've searched all the settings and options in Yahoo and I can't find a way to delete my account.
Can you tell me what I need to do delete my entire Yahoo account (not just the email part)? 
Rick's answer:  Cynthia, I agree with your friend that you should delete your Yahoo account since you are no longer using it.
Hackers and scammers love taking over abandoned online accounts so they can use them to perpetrate all kinds of mischief and make it appear that the legitimate account holder is doing it!
Unfortunately, as you have discovered it isn't all that easy to figure out how to terminate an account with Yahoo.
But it can be done, and quite easily at that. Here's how:
1 – Visit Yahoo's "Account Termination" page by clicking the following link:
https://edit.yahoo.com/config/delete_user
2 – Sign into your Yahoo account.
3 – Read the information provided about deleting a Yahoo account, then click the Continue delete my account button and follow the prompts from there.
If you followed the steps above your Yahoo account should now be deleted (at least from your "user" perspective).
Just be aware that Yahoo will maintain a copy of your account-related information for a limited time just in case they are asked to provide it to a government entity in response to a court order.
That's all there is to deleting a Yahoo account, Cynthia. Good luck!
Bonus tip: This post explains why you should cancel all of your unused email accounts.
---