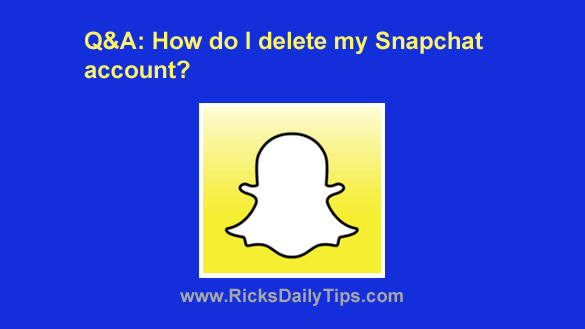 Question from Hannah K.:  I've been using Snapchat for a while but I heard that it's not as safe as they claim it to be.
I'd like to delete my account but I can't find a way to do it. I've tapped everything I can tap in the app on my iPhone, with no success.
Can you tell me what I need to do in order to completely delete my Snapchat account?
Rick's answer:  You're right, Hannah. Snapchat does have some security issues, one of which I wrote about in this post.
It's actually pretty easy to delete your Snapchat account once you know how to do it.
However, before I explain how to delete your account I recommend that you first read the following:
Important: During the first 30 days your Snapchat account will only be deactivated instead of deleted.
That gives you a 30 day window during which you can change your mind and reactivate your account without losing any of your information.
After the 30 day "grace period" has expired everything that's associated with your Snapchat account will be deleted (except for some legal info that Snapchat will keep around for a while).
Once your account has actually been deleted you won't be able to get any of your information back even if you open a new account at some point in the future.
That's why you need to be absolutely certain that you want to delete your account and all of your info before following the steps below.
If you're sure you really want to delete your Snapchat account simply follow the steps below…
1 – Visit this page on the Snapchat website.
2 – Log in to your account and then follow the instructions.
That's all there it to it Hannah. Once you've completed one of the procedures detailed above you'll be able to wait 30 days for your account to be deleted and then remove the Snapchat app from your phone.
Important: Make sure you don't try to log into your account during the 30 day grace period because logging in will automatically reactivate your account.
Bonus tip: This post explains who you should think twice before using a third-party app with Snapchat.
---
Never miss a tip!  Click here to sign up for my free Daily Tech Tips Email Newsletter!