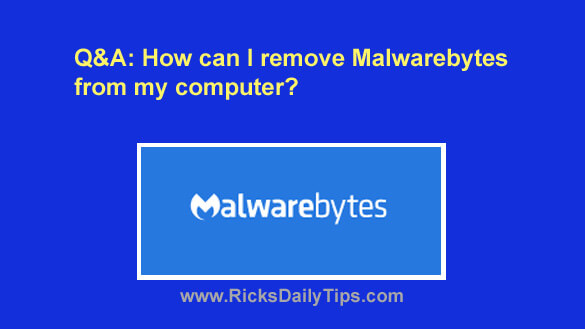 Question from Oliver: I've been using Malwarebytes for several years with good results but it recently started causing my computer (Lenovo laptop with Windows 10) to freeze up.
I know it's Malwarebytes that's causing the freeze-ups because when I use Autoruns to prevent it from loading automatically with Windows the problem goes away.
I did some research and found out that Malwarebytes apparently doesn't play well with certain computers running Windows 10, so I'd like to just remove it from my hard drive.
The problem is when I try to uninstall it I get an error saying it wasn't successfully uninstalled.
Can you tell me what I need to do in order to completely remove Malwarebytes from my PC?
Rick's answer:  I'm sorry you're having this problem, Oliver. I'll be glad to help if I can.
I too have been using Malwarebytes for years with no issues, but I've heard similar accounts of it not working correctly on a small number of Windows 10 machines. It appears that you are one of the unlucky few.
As far as the error you receive when you try to remove Malwarebytes is concerned, I've received the same error a few times in the past on various computers.
Luckily, Malwarebytes Support provides a handy tool you can use to force the removal of all traces of the Malwarebytes software from your computer. It's called the Malwarebytes Support Tool.
This page on the Malwarebytes website has the download link for the removal tool along with simple instructions for using it. Just click Download and follow the instructions.
Important: Difficulty removing these types of security apps can sometimes be the result of malware that has slipped through the cracks and made it onto your system.
Therefore, I recommend that you run a thorough scan with Microsoft Defender (or a third-party antivirus app if you have installed one) and then use a couple of the tools mentioned on this page to run supplemental scans.
I hope this helps, Oliver. Good luck!
Update from Oliver: I downloaded the Malwarebytes Support Tool and it got rid of Malwarebytes as promised. Thanks for your help.
Bonus tip: This post explains why you should only run one antivirus program at a time for the best protection.
---