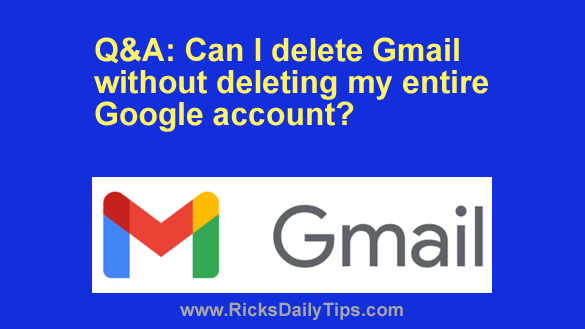 Question from Jennifer:  I read somewhere (I think it might have been on your blog) that it's best to close unused email accounts to prevent hackers from taking them over and using them to spread spam.
I have a Gmail email address that I rarely use and I'd like to delete it. The thing is I do use a couple of other Googly things so I need to keep my Google account open.
Is it possible to close just the Gmail and keep the Google account open? 
Rick's answer:  You're probably thinking about this post, Jennifer. And yes, it's definitely a good idea to close any email accounts that you don't use on a regular basis.
To answer your question, you can easily delete your Gmail service without it affecting your umbrella Google account. Just follow the steps below:
 1 – Log into the Gmail account you wish to delete.
2 – Click the Google Apps icon that's located to the right of the top search bar (it looks like 9 dots arranged in the shape of a square).
3 – Click Account.
4 – In the left-hand column, click Data & privacy.
5 – Scroll down to the "Data from apps and services you use" section and click Delete a Google service, then enter your Google password if required to do so.
6 –  Click on the Trash Can icon beside Gmail and follow the prompts as they appear. (Note: You'll be asked to enter an alternate email address that will become the new email address that's connected to your Google account.)
That's all there is to it. After you have followed all the steps to the end your Gmail account will be deleted, but your Google account will remain active (with the new email address you entered now associated with it).
I hope this helps, Jennifer. Good luck!
---