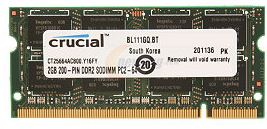 Question from Anthony J.:  Rick, I have a custom built PC with an ASUS motherboard that supports DDR3-1333MHZ RAM. It's about 5 or 6 years old as best I can recall.
I want to upgrade the memory from 4GB to 8GB, but the only RAM sticks I could find locally are DDR3-1600MHZ. Will they work with my motherboard without damaging anything?
Rick's answer: Yes Anthony, those faster RAM modules will work just fine with your motherboard, they'll just operate at the motherboard's lower max RAM clock speed. You don't have to worry about anything frying or sizzling on you.
But that being said, there's one thing you need to consider though before you buy the new RAM sticks…
You didn't mention which version of Windows you're running, but if it's a 32 bit version you'll be wasting your money by adding more RAM. You'll need to be running Windows 64 bit in order for the operating system to use (or even "see") the extra 4GB of RAM.
You can easily check to see whether the Windows version you're running is 32 bit or 64 bit by doing the following:
1 – Right-click on the "This PC" or "Computer" icon, then click Properties to display the "System Information" dialog box.
2 – Scroll down to the "System" section and look for either 32 bit or 64 bit.
If you see 64 bit listed there, that's great. Your new RAM will be "seen" and used by Windows. But if you see 32 bit listed, you'll need to install a 64 bit version of Windows (which will require a clean install, not an upgrade) before the extra RAM will do you any good.
If the motherboard and CPU are only 5 or 6 years old then it's virtually a given that they are 64 bit devices, but it won't hurt a thing to double-check.
I hope this helps, Anthony. Good luck!
Bonus tip #1: Read this post for more tips and info about upgrading your PC's RAM.
Bonus tip #2: Want to make sure you never miss one of my tips? Click here to join my Rick's Tech Tips Facebook Group!
---
Do you have a tech question of your own for Rick? Click here and send it in!
If you found this post useful, would you mind helping me out by sharing it? Just click one of the handy social media sharing buttons below.