Click here to sign up for my free Rick's Tech Tips Newsletter!
---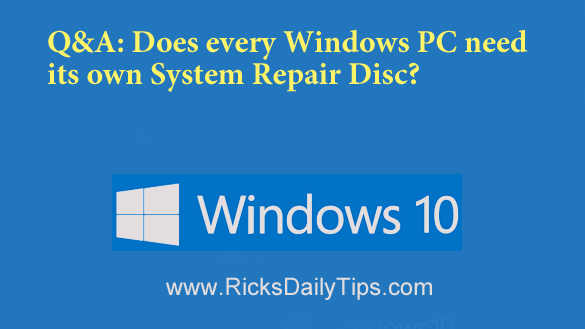 Question from Stephanie:  I'm the office manager for a medium-sized wholesale floral distributor.
Including myself, we have nine people working in our office, and each of us have identical Dell Business desktop computers.
These computers came with Windows 7 Pro but I upgraded all of them to Windows 10 bit back when the upgrade was free.
I've been creating weekly System Image backups for each computer but I just learned that I need to create a System Repair Disc too so if anything happens I'll be able to boot the PC to the Recovery Options screen.
My question is do I need to create a separate System Repair Disc for each of the nine computers or will the same one work for all of them? 
Rick's answer:  I really like your backup plan, Stephanie.
Weekly System Image backups will help ensure that your office staff will always be protected against catastrophic data loss in case of a hard drive failure.
I recommend that you consider augmenting your local backup plan with a good off-site cloud backup service like Carbonite or iDrive.
Having a redundant backup in the cloud would help your company quickly recover from a fire or other catastrophic event should you ever experience one. After all, a backup is of no use if the drive containing it gets destroyed. Just something to think about.
To answer your question, the same System Repair Disc will work with all of your computers since they're all running the same version of Windows 10. But that being said, you should probably create more than one so you'll have a backup or two on hand.
Those things are pretty easy to lose track of, but luckily they're quite easy and inexpensive to create. And if need be, you can easily create one on any PC that's running the same version of Windows 10.
I hope this helps Stephanie. Good luck!
Bonus tip: If you're looking for an excellent resource for learning the ins-and-outs of Windows 10, I use and recommend a great book titled Windows 10 for Dummies.
---
Click here to ask me a tech question.