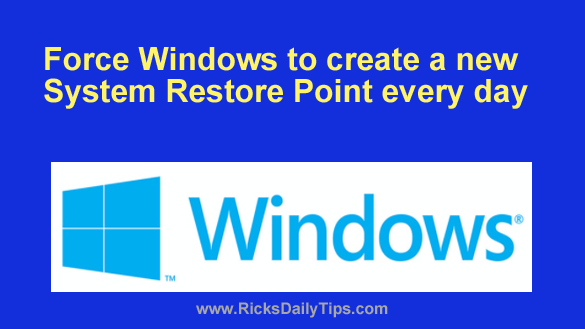 System Restore is a handy tool that you can use to restore your PC's Windows installation back to a previous (working) state if a virus or some other issue causes your computer to stop working as it should.
I've personally used System Restore to quickly get myself out of a lot of jams in the past, usually after installing a program or app that I was asked to test and review.
While it's not as comforting as having a recent System Image Backup on hand, knowing that I can usually use System Restore to get my computer up and running again in a hurry if disaster ever strikes is great for my peace of mind. 
System Restore can help you out of your next jam as well, but only if you have a recent Restore Point to roll your system back to.
And in most situations, the more recent the Restore Point you can go back to, the better.
By default, Windows only creates a new Restore Point once per week and in response to certain types of events.
However, you can change a setting that will force the creation of a new Restore Point every day to ensure that you'll always have a recent Restore Point on hand should you ever need to use it.
The first thing I recommend is that you follow the steps listed in this post to ensure that System Restore is actually turned on. It might currently be turned off, and the only way to find out is to check.
After you've verified that System Restore is indeed turned on, you can follow the steps below to force Windows 10 to create a new System Restore Point every day. Just follow the steps detailed in the short video below.
Note: You can watch this video at full screen by clicking the little "square" icon in the lower-right corner of the video after it begins playing.
If you prefer following written instructions, here you go:
1 – Click the Start button and type the word task into the Search box, then select Task Scheduler from the list of search results.
2 – Click the arrow beside Task Scheduler Library to expand that tree.
3 – Click the arrow beside Microsoft.
4 – Click the arrow beside Windows.
5 – Scroll down and click System Restore.
6 – In the middle pane, double-click on SR.  A window containing the "SR properties" should pop up.
7 – Select the Triggers tab.
8 – Click the New button at the bottom of the window. Another window will pop up with which to configure the new trigger.
9 – Select the radio button for Daily, then choose the time when you want the system to create your daily Restore Points. (Note: You can leave the day set to the current date.)
10 – Check the box beside the word Enabled.
11 – Click OK, then click OK again.
That's all there is to it. Your PC's System Restore tool should now create a new Restore Point every single day, starting at the date and time you set in the procedure above.
From now on you'll always have a System Restore Point that's no more than a day or two old that you can use to recover from a wide range of Windows issues that might arise.
Bonus tip: Click here to learn how to create a System Image Backup of your computer's hard drive.
---