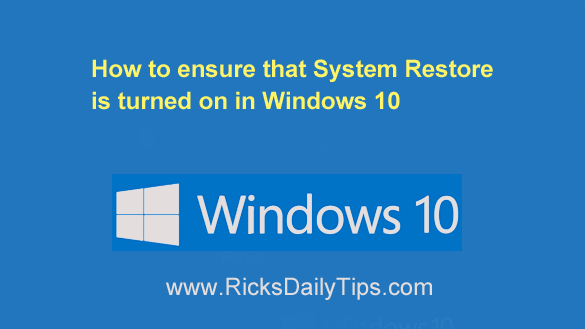 Click here to sign up for my free Rick's Tech Tips Newsletter!
---
Have you updated your PC to Windows 10 from an earlier version of Windows at some time in the past?
If so, there's a very good chance that the System Restore utility was turned off during the update process.
What's more, I've seen plenty of PCs that came from the factory with Windows 10 that had the System Restore utility disabled.
As you probably know, System Restore is a powerful tool that can help you get your Windows machine back into working order if something ever goes haywire with your Windows installation.
When turned on, System Restore (usually) makes it easy to roll your Windows installation back to a previous (working) state if something ever goes wrong during a program installation or some other serious issue arises.
In other words, this awesome tool can really can get you out of rather serious jams. 
The thing is you'll need to have at least one saved Restore Point that you can roll back to if something does go wrong with your machine.
If System Restore is turned off it can't create any Restore Points, meaning there won't be one available to you should you ever need it.
Luckily, it's very easy to check whether System Restore has been disabled or not.  If you discover that it is currently disabled, you can turn it on with just a few mouse clicks. Simply follow the steps below:
1 – Press the Start button and then type the words system restore.
2 – Select Create a restore point  from the list of search results.
3 – Select the System Protection tab. You should now see a list of available drives. The C: drive is the critical drive because that's the drive that typically holds your Windows installation and all of its related files.
4 – Select the C: drive, then click the Configure button.
5 – Select the radio button beside "Turn on system protection".
6 – Click Apply, then click OK.
7 – Click OK again to close the "System Properties" box.
That's all there is to it. You can now rest assured that System Restore is active and ready to create periodic Restore Points that you can roll back to should your system ever become corrupted or unstable.
Bonus tip: System Restore is great for quickly resolving many Windows issues, but you can't depend on it as a full-fledged backup routine. That's why I strongly recommend that you periodically create a System Image Backup as well.
---
Cick here to ask me a tech question.